Resource Library

Imagining a More Abundant Community
Resource Library
Imagining a More Abundant Community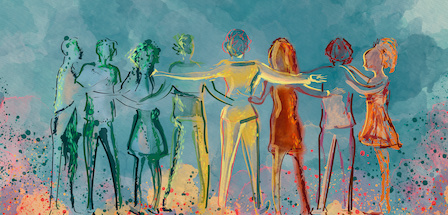 by Elise Erikson Barrett
Last month, I had the opportunity to represent Lake Institute (wearing my graduate student intern hat) and participate in a convening that was held here in Indianapolis, focused on faith-informed models of "neighborhood economics" that have the potential to help move economic structures and relationships in more life-giving directions. (To engage more with the conversations and work of this collective, you can start here.)
Economic structures are complex, increasingly so in this era of technologically-mediated finance capitalism–and simplistic ideological responses are more likely to trigger defensiveness than to solve problems. Thus, for me, the most helpful aspect of this conference was this: people of hope gathering to engage with the realities of our economic contexts, often at the level of neighborhoods and local communities, and imagining creative and highly practical ways that our existing economic structures, tools, and products could be leveraged in service of justice and care.
Faith and Giving
Lake Institute, of course, exists to explore the "intersection of faith and giving." Often, we think of this intersection in terms of a particular kind of philanthropy: charitable giving of dollars, motivated or shaped by faith commitments. Leaders of congregations must indeed spend time and energy learning comfort and competence with this kind of giving, and persons of faith are called to think deeply about their philanthropic choices. However, it is also our privilege to lean into the concepts of "faith," and "giving," and to let our understanding of them expand beyond donated dollars. How, for example, might our faith orient us, or call us to richer understandings of concepts like generosity, or justice, or care for others? How do we understand the nature of a "gift," and how does awareness of historic economic injustice inform (or challenge) our practice of "generosity?" Questions like these permeated the convening and grounded our conversations about economic models, innovations, and practices. And we were helped to go deeper by the presence of Indianapolis leaders De'Amon Harges and Wildstyle Paschall, guided by their understanding of the tenets and practice of asset-based community development. The assets under consideration in these conversations included not only our financial economic resources, but also, in De'Amon's words, the "intangible currencies that are cultivated and used by human assets and relationships to build a more abundant community." (For more about De'Amon, Wildstyle, and their organization The Learning Tree, click here.)
Practical Imagination
It is easy to feel stymied by economic forces and factors, like we are powerless agents in macro systems. This conference, however, was dedicated to practical imagination. Given the realities of our history, our setting, our economic vehicles and tools, how might we do something new? Participants engaged in eight "design labs," each small group exploring a category of economic agency or innovation.
One group spent time exploring new investment products that might allow churches and other faith-based organizations to invest their endowments in ways that actively support their values and mission. This would mean going well beyond "do no harm" screening, and providing ways for endowments to invest actively in entrepreneurs making a missional difference – even if this entails accepting a slightly lower financial return for the sake of "return on mission." Approaches to this kind of mission-aligned investing vary, from companies like Adasina whose investments connect financial markets and social justice work, to the work of the Francesco Collaborative, looking to build capital ecosystems informed and shaped by the tenets of Catholic social teaching.
Another group focused on the ongoing transition in congregational assets across the United States, asking what might change if congregations began to see their buildings and funds as resources for good, not solely to be managed and maintained for the use and survival of that particular congregation, but to be used imaginatively for community development in a variety of ways. (For tools to help support this kind of imagination, see "Let's Talk About Resources," a conversation-starter developed by Shifting Ground here at Lake Institute, in collaboration with RootedGood; you can also check out the important work of the Oikos Institute for Social Impact, which is helping congregations think about questions of assets and social good.)
One small group worked with the concept of community equity, exploring how wealth-generating land and assets might be transitioned to the ownership of historically marginalized communities and individuals. (See the work of Lynier Richardson as he describes action being taken to provide pre-seed capital to Black entrepreneurs via philanthropy.)
Another small group looked at "Faith on Main Street," discussing how congregations and others might better listen to and learn from the stories of people creating thriving local neighborhoods – and how people of faith might partner with or support this thriving. (Mission City Renewal, a place-based community development incubator that has also partnered with Shifting Ground, is well attuned to this work.)
And in these conversations, at table and in small groups, we heard stories: stories of the ways in which people of faith and others are experimenting with existing models to create something new. I don't often feel hopeful when I talk about economic models and systems. But in this space, which held creative conversations with high-capacity people who are motivated to think anew about "faith" and "giving," I found a source of hope. I saw a potential future in which our faith commitments are more fully claimed, and our economic tools and structures are more effectively leveraged, patiently and persistently, to tend toward equity and thriving for all.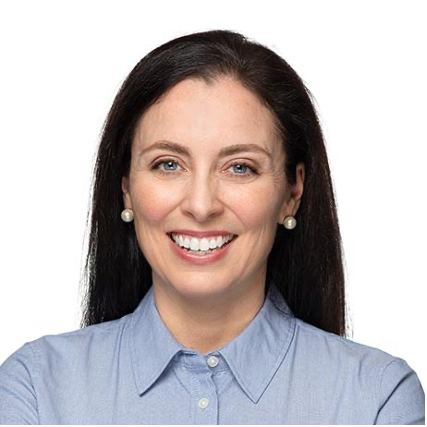 Elise Erikson Barrett directs the coordination program for Lilly Endowment Inc.'s National Initiative to Address Economic Challenges Facing Pastoral Leaders, a multi-cohort initiative hosted by the Center for Congregations. Elise holds degrees from Duke University (MDiv) and Hanover College (Economics), and is a former United Methodist pastor and writer. She is pursuing a Ph.D. in American Studies at Indiana University/Purdue University Indianapolis, focusing on issues of economics and faith-based organizations, and working with the Shifting Ground initiative at Lake Institute on Faith and Giving.
---
Questions for Reflection
Think about the resources you steward, both personal and organizational. Did any of the examples above spark a new way of thinking about your stewardship?
What is one creative way of reimagining economic relationships that you have seen?
Expanded Perspective
Community, Economy, and Mutual Delight
We invite you to watch this TEDx talk by DeAmon Harges, "Making the Invisible Visible." Harges integrates asset-based principles with a theological vision for community (including religious community) that celebrates gifts. He shares examples from the Indianapolis neighborhood of Broadway United Methodist Church, which Rev. Mike Mather also writes about in his book, Having Nothing, Possessing Everything. An excerpt from the book can be found here if you want to learn more.
Faith & Philanthropy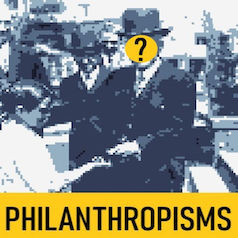 In this episode of the Philanthropisms podcast, David P. King, Ph.D. discusses the importance of faith in motivating and shaping approaches in the modern world. plus a whole lot more! David will be back with Lake Institute in August after being on sabbatical for the last year.
Let's Talk About Resources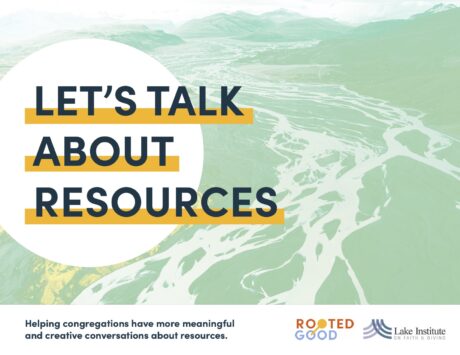 Let's Talk About Resources is a free tool designed to help religious leaders and congregations explore questions of creative resource allocation in small group conversations.
Co-created by Lake Institute on Faith & Giving and the innovative design team at RootedGood, Let's Talk … uses case studies, games, and reflective discussion questions to facilitate creative conversations about how congregations can use their resources in service to their local community.
Subscribe
---
Insights, a bi-weekly e-newsletter, is a resource for the religious community and fundraisers of faith-based organizations that provides:
Reflections on important developments in the field of faith and giving
Recommended books, studies and articles
Upcoming Lake Institute events