Resource Library

Opening The Dor: A Guide For Grandparents on Intergenerational Giving
Resource Library
Opening The Dor: A Guide For Grandparents on Intergenerational Giving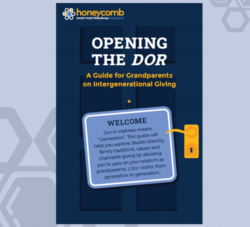 Dor in Hebrew means "Generation."
This guide from Honeycomb will help grandparents explore Jewish identity, family traditions, values and charitable giving by allowing them to pass on their wisdom as grandparents, L'dor Vador, from generation to generation. This guide was made possible by the generous support from The Sephardic Foundation On Aging.
The guide includes:
Activities for grandparents and grandchildren to help explore Jewish identity, giving, philanthropy and heritage.
Creative ways to encourage intergenerational giving.
Discussion questions.
Jewish text sources.
Clear, easy-to-read instructions.
Subscribe
---
Insights, a bi-weekly e-newsletter, is a resource for the religious community and fundraisers of faith-based organizations that provides:
Reflections on important developments in the field of faith and giving
Recommended books, studies and articles
Upcoming Lake Institute events