Resource Library

In-Kind Giving: Moving from Old Pianos to Meaningful Connections
Resource Library
In-Kind Giving: Moving from Old Pianos to Meaningful Connections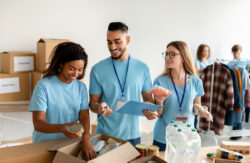 by Meredith McNabb
The congregation where I got married had 17 pianos. They'd been donated over the course of nearly a hundred years, and when it was time to relocate to a new building, the pianos were a complete pain to dispose of: nobody wants an old piano, perhaps pointing to some of the motivation for their donations in the first place.
The specter of a regiment of old pianos is what may come to mind for leaders in congregations, schools, and religious nonprofits when the topic of "in-kind donations" arises, but there is reason to consider how and why it may be a net positive to welcome and even invite gifts in kind.
Non-Monetary Contributions
On a basic level, these gifts are just non-monetary contributions, and everything from a baker donating a cake to stock the bake sale to the contractor donating building supplies and expertise would fall under this umbrella. Religious organizations may hardly register much of this kind of giving as giving, since it flows through nearly everything they do, but it's worthwhile considering how gifts in kind could become a more intentional piece of religious organizations' sustainability and of their cultivation of generosity among their constituents.
On one hand, gifts in kind, when they are of actual use to the organization's mission, free up monetary resources and stretch budgets further. Donated office furniture, gratis legal services, volunteer custodial and landscaping rotations all reduce internal expenses and further the mission, so long as leaders stay empowered to say "No, thank you," to gifts that are not actually helpful. Creating wish lists, organizing volunteers, and issuing personal invitations—not unlike a major gift solicitation—for contributions of specific skills and services can all keep this sort of giving corralled and effective. Establishing procedures with the finance team about recording in-kind donations for the sake of accounting and IRS regulations will also support how the organization can steward these kinds of donations.
Beyond an Old Piano
But beyond how gifts in kind affect the bottom line in an organization, these donations can deepen the connection and awaken the imagination for the would-be giver.
In-kind gifts allow people to stretch in their generosity and to see how their unique contributions are furthering the good work the organization or congregation is doing. The sewist who works with the clergy to create liturgical items for their congregation's worship space is certainly saving the congregation a great deal of money—but they're also using their talents in a way that strengthens their connection with the community and may even carry deep spiritual significance for them. The lawyer on the board who can use their skills to sort out a tricky property issue is making a significant gift against organizational expenses—but they may also find real joy in seeing their professional skills put to use for a cause they care about deeply. Organizations would do well to remember that these kinds of in-kind donations are gifts, not obligatory expectations to be taken for granted. Both asking and thanking these donors is key, just as it would be for gifts of money, but this kind of giving cultivates generosity and lets constituents—whether at the core or on the periphery—give of themselves.
Even when the in-kind giving is not drawing on the personal talents of the giver, in-kind giving can spark imagination for new generosity and build new connections. A student organization put out on social media a wishlist for items to stock their space, and I sent them a gift of silverware because of my own warm memories of eating community meals as a student. A colleague put out an invitation for gifts of underwear for refugees at the border, and I was moved to give by the very tangible impact of even such a small contribution. Neither organization was on my regular giving list—but their calls for in-kind donations drew me toward both understanding and feeling what it is that they do in the world, and they prompted me to make gifts I probably would not have made otherwise.
Opportunities for Meaningful Connections
When pulling together a case statement to invite gifts of any size, Ted Bayley's classic definition through the Association of Fundraising Professionals notes that the point is to convey information, but also to "convey a feeling of importance, relevance, and urgency, and have whatever stuff is needed to warm the heart and stir the mind." For first-time givers to an organization, as much as for long-time supporters, invitations for in-kind donations can be just the thing to make those emotional and intellectual connections for generosity come alive.
In fact, even when inviting donors to make monetary gifts, religious organizations may do well to consider how those gifts can be tied to their impact through the imaginative framework of in-kind giving. Research is starting to show that younger donors are more likely to primarily consider the impact of their gifts rather than the institution their gifts are supporting.¹  Showing potential givers that a gift of $100 provides (a community dinner) and a gift of $1000 provides (a week of camp) is one way to help them engage with the work of the organization and be moved by the difference that their gift could make.
Consider what an intentional strategy of inviting in-kind giving could look like: What might be feasible and meaningful for your constituents to give as non-monetary contributions in support of your organizational mission? How can those gifts be stewarded well—recorded appropriately, appreciated warmly, recognized in ways the givers would find meaningful? What gifts-in-kind can the organization best put to use, and which would fall outside your gift acceptance policies? With thoughtful invitations and wise practices, in-kind giving can be a powerful force for furthering a mission and cultivating generosity—and not winding up with a surplus of old pianos!
¹See Section 10 of The 2021 Bank of America Study of Philanthropy: Charitable Giving by Affluent Households for one example of that shift toward impact focused giving among younger donors. 
---
Questions for Reflection
How does your organization invite in-kind giving? Do you recognize it the same way you do monetary giving?
Do you have a gift acceptance policy? How might having one benefit your organization?
Expanded Perspective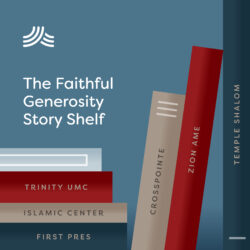 Though this story from the Faithful Generosity Story Shelf doesn't outwardly identify in-kind donations, it's likely many were offered to help maintain this long-standing "one-stop shop where visitors can pick out clothing, sign up for groceries, get lunch, register to vote, meet with health department and social service workers, get help with transportation issues, and more." Read through the story, then use this guide to discuss it with a group.
So All May Eat… and More!
Back in the 1960s, Hampton Baptist Church started a soup kitchen to serve the food insecure community of Hampton, VA. After more than 50 years, organizers wanted to show that the program had also done some changing.
In 2015, the soup kitchen changed its name to SAME, an acronym meaning "So All May Eat." It began changing into an organization concerned with much more than one hot meal every week.
The complimentary Monday meal is still the center piece of what they do; but it laid the foundation for a place where people could visit to feel welcome, cared for and lifted up on both sides of the buffet line.
It now includes a clothing closet that invites community members to shop, boutique-style, for clothing and accessories. Clients make their own style choices or can ask for assistance.
A monthly mobile food pantry also lets families pick out the groceries they want.  In partnership with the Virginia Peninsula Foodbank, they include a delivery service for those who don't have transportation… continue reading
Summer Cohort of ECRF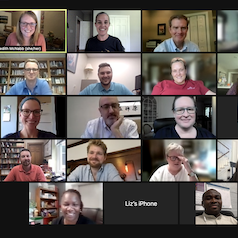 Our next online cohort of the Executive Certificate in Religious Fundraising begins in June. We surveyed our participants a year after taking the course and one wrote that through ECRF they gained "confidence, direction as an executive fund raiser, ability to engage in fundraising conversations from a faith-based perspective." Another wrote that they gained "a confidence that I can be a part of these discussions despite the fact that I don't have unlimited means." Wherever you find yourself on this spectrum, we are confident that you will gain the skills and tools you need to grow as a religious fundraiser!
Register today
Edgar Sandoval, CEO and President of World Vision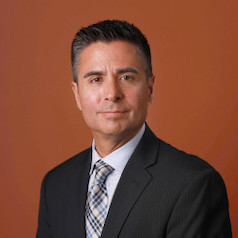 This Thursday, March 27th, the IU Lilly Family School of Philanthropy is hosting the inaugural Milton J. Murray Lecture featuring Edgar Sandoval, CEO and President of World Vision. His talk is "Believing in a World of Impact Through Vision, Innovation, and Transformative Faith." For locals folks, join us at the Indiana Historical Society. All others can watch the livestream.
Subscribe
---
Insights, a bi-weekly e-newsletter, is a resource for the religious community and fundraisers of faith-based organizations that provides:
Reflections on important developments in the field of faith and giving
Recommended books, studies and articles
Upcoming Lake Institute events