Resource Library

Philanthropy By Any Other Name
Resource Library
Philanthropy By Any Other Name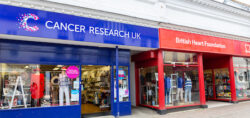 by David P. King, Ph.D.
In Shakespeare's Romeo and Juliet, Juliet utters the famous line, "What's in a name? … a rose by any other name would smell as sweet." Sometimes I wonder if that is true for philanthropy as well. Making sense of philanthropy is not easy. First, it can be a difficult word to pronounce and spell! Second, it can be difficult to define and discuss. I am learning that some of our most critical work may be in listening, opening up conversation, and helping make sense of what we mean when we turn to the topic of philanthropy.   
I have just returned from sabbatical where I spent part of 2022 at the University of Edinburgh as a U.S. Fulbright scholar to Scotland. The purpose of the Fulbright program is to promote cultural exchange through building mutual understanding between nations, advancing knowledge across communities, and improving lives around the world. For me, that meant studying faith and philanthropy in comparative perspective. And in conversations, my first task was most often to explain what I meant by philanthropy and make the case for why anyone would study it. 
Philanthropy in Context
Understanding context is extremely important. Across the United Kingdom there is a long history of philanthropy, but it is often still viewed through the lineage of a Victorian past under the auspices of the wealthy or the patronage of the royal family. With the rise of the welfare state in the early twentieth century, there was the hope that the U.K. could eliminate the need for any reliance on charity and philanthropy. Yet, in recent decades, with a decline in government funding, public leaders have called on the need for private giving as well as the need for voluntary agencies to play a key role in providing services and sustaining local communities. While the U.K. is observing similar trends to the U.S., with relatively flat growth in giving and a decline in the number of givers, its philanthropic footprint remains much smaller. When residents of the United Kingdom engaged with me in conversations on philanthropy, it was often out of a sense of curiosity, contradiction, or critical reflection. 
If that was true for my conversations about philanthropy, it was also true for my conversations about faith. Again, attending to context is vital. Given the U.K.'s history of an established church, its approach to funding faith communities is also quite different from the United States. And while surrounded by religious history and architecture everywhere, a broadly secular society does not easily see faith actors at the center of their public life together. When they do, they are sometimes drawn to emerging, growing groups of religious minority traditions, such as Black Majority Churches or networks of Muslim institutions that often served as thriving community hubs. 
After settling in Scotland, I became even more convinced that faith and philanthropy was the perfect topic to explore across our comparative contexts. On my walk from home to my on-campus office, I would pass countless charity shops on the high streets of Edinburgh. Most akin to Goodwill or Habitat for Humanity's ReStores in the U.S., almost every major nonprofit in the U.K. has its charity shops staffed mostly by volunteers receiving donations and reselling these items. Proceeds often made up a significant percentage of many charities' annual revenues. Quite often I would stop in to talk to these volunteers tagging racks of clothes or strike up a conversation with mothers dropping off toys and books for donation before making my way to interview a major donor, foundation, or social entrepreneur. I would make connections to nonprofit organizations, sitting down with their executive director as well as getting coffee with their front-line social worker. I had the chance to interview government employees working through grants and contracts to nonprofits on specific social issues as well as local church pastors, imams, and their key lay leaders.
Philanthropy is Complex
The result of all these experiences has led me to conclude that the differences among our understandings and practices of philanthropy may be too difficult to synthesize into a single thread. At the same time, it would be too easy to declare that these differences prevent us from looking for any common ground. In fact, I would stand by the perspective that, across our contexts, we are more alike than different. While there are many motivations for why people give, the values, habits, and impulses of givers are often quite similar. Likewise, the foundational principles and practices of fundraising continue to be effective in engaging a variety of donors. Yet, it seems to me that an undervalued aspect of our reflection on philanthropy is a focus on the traditions, contexts, and practices that shape our understanding of what we are talking about when we discuss giving or philanthropy. 
One resource that Lake Institute often turns to is the four traditions of philanthropy. The value of this framework is that it promotes dialogue and reflection. There is not a right/wrong tradition of philanthropy; instead it invites any individual, group, or organization to reflect on its own often plural purposes. Presuming that we know what our constituents or other audiences mean by philanthropy or giving may be one of our biggest blind spots. If we avoid the hard work of defining and reflecting on our traditions of philanthropy, we run the risk of limiting our understanding and impact. One of my greatest learnings from my time abroad studying philanthropy was realizing that the new contexts in which I found myself were significantly different from those to which I was accustomed, and I needed to take time to listen and learn. 
Attending to philanthropy, giving, or generosity across concepts, traditions, and practices takes time and effort, but it is time and effort well spent. It's worth stopping to think: what words do you use? Why? Where do you engage philanthropy and generosity in your daily life? When have you taken time to stop and ask someone why they give or volunteer? Have you taken a few minutes to stop and reflect on what it means to be a neighbor, a helper, an advocate? Let me suggest that you do not need a sabbatical to step back and reflect on what faith, philanthropy, and giving mean for you and those that you serve. I am confident that this kind of ongoing reflection would help us to attend more closely to the many contexts, traditions, and practices that we see all around us. It would help us be more attentive to our own language, understanding, and invitations as well. It may be less important to come to terms with just the right name or definition for philanthropy, but more important to take the time and make the effort to consider how we live into the giving traditions of which we are a part and to appreciate all the other forms of generosity around us.  
---
Questions for Reflection
What words do you use when talking about philanthropy, giving, and generosity?
What does it mean to you

to be a neighbor, a helper, and/or an advocate?
Expanded Perspective
Does Philanthropy Do The Public Good?
Philanthropy has long played a key role in our communities on local, national, and global scales. Yet if we have often assumed that giving is good, we must also step back and ask, "good for whom?" In recent years, more voices are raising questions and critically engaging philanthropy and notions of the public good.
In short, how do we know when philanthropy does the public good? David King answers these questions and more in this lecture given in partnership with the Fulbright Commission.
2023 ECRF Courses Now Open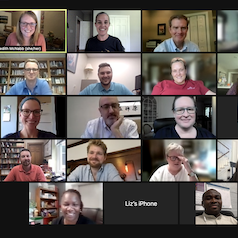 Our online Executive Certificate in Religious Fundraising cohorts for 2023 are now open! This eight-week course for religious leaders seeking education on religious fundraising offers at-your-pace study through our learning management system, alongside weekly plenary and peer group zoom meetings. Each week you get to apply what you're learning in your own context and have conversation partners to support you all along the way. 2023 registration is now open!
The Thomas H. Lake Scholarship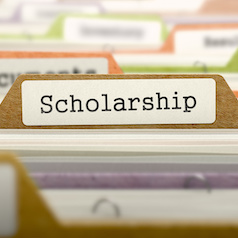 The 2023 scholarship application is now open for the Executive Certificate in Religious Fundraising (ECRF). The ECRF is designed for religious leaders in faith-based organizations and institutions who wish to learn more about the spirituality of fundraising and gain a core foundation in fundraising principles. Scholarship criteria include both demonstrated financial need as well as the potential for applying course learnings in your current professional context, and will apply toward any 2023 ECRF open enrollment offering.
Subscribe
---
Insights, a bi-weekly e-newsletter, is a resource for the religious community and fundraisers of faith-based organizations that provides:
Reflections on important developments in the field of faith and giving
Recommended books, studies and articles
Upcoming Lake Institute events