Resource Library

Giving Magazine: Live Generously (Vol 19)
Resource Library
Giving Magazine: Live Generously (Vol 19)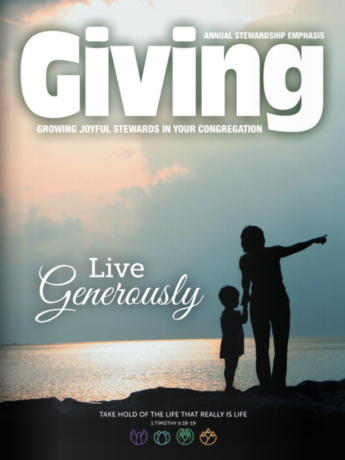 This issue of Giving Magazine focuses on Living Generously and emphasizes the ways generosity allows donors to be present and feel a part of something bigger than themselves.
The articles in this issue are:
A Theological Foundation for Generous Giving
God's Economic Delivery System
Gifts of the Present
Learning to Live at Rest with God
God is Good
How an Annual Stewardship Emphasis can Strengthen Generosity in your Congregation
From Jerusalem to the Ends of the Earth: A Case for Global Generosity
Stewardship in the Small Church
Legacy Generosity: It's all in the (Church) Family
Whose Church Is It Anyway?
Millennial Generosity
Generation Z Givers grow Through Generous Involvement
Nurturing Children to Live Generously
Beyond an Oxymoron
---
Giving Magazine was a premier stewardship resource published by the Ecumenical Stewardship Center (ESC) from 1999 until 2020. The magazine served Christian faith communities throughout North America, providing thoughtful, practical, and inspirational content on faith and giving from thought leaders and practitioners alike. Giving was published annually from 1999 until 2018 (volumes 1-20), and then quarterly in 2019 and 2020 (volumes 21-28) in digital form only. In 2021 ESC closed its doors and committed its archives to the care of Lake Institute on Faith & Giving. For further information on ESC or its archives, please contact us at lfi@iupui.edu.
Subscribe
---
Insights, a bi-weekly e-newsletter, is a resource for the religious community and fundraisers of faith-based organizations that provides:
Reflections on important developments in the field of faith and giving
Recommended books, studies and articles
Upcoming Lake Institute events