Resource Library

Giving Magazine: Live Simply (Vol 18)
Resource Library
Giving Magazine: Live Simply (Vol 18)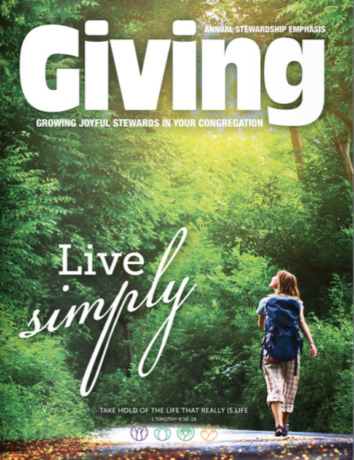 This issue of Giving Magazine focuses on Living Simply, including practical tips to cultivate contentment individually and congregationally, as well as sample sermon topic outlines on the subject.
The articles in this issue are:
Simple Living and Christian Stewardship
Not So Simple: Living in Christ
Cultivating Contentment: Five Steps for Simplifying Your Life
Simple Living
Keeping It Simple in a High Tech Culture
Generosity in Community
Making it Simple for Person to Give
Sacrificial Sharing in Burkina Faso Grows Churches
Helping Youth Move from Anxiousness and Stress to Intentionality
Green Burials: A Conversation Worth Having
Confessions of a Recovering Consumerist
Reducing College Debt: a Group Ride
Clergy and Money: Understanding the Complexity of Our Relationship with Money
Helping Kids Live Simply
---
Giving Magazine was a premier stewardship resource published by the Ecumenical Stewardship Center (ESC) from 1999 until 2020. The magazine served Christian faith communities throughout North America, providing thoughtful, practical, and inspirational content on faith and giving from thought leaders and practitioners alike. Giving was published annually from 1999 until 2018 (volumes 1-20), and then quarterly in 2019 and 2020 (volumes 21-28) in digital form only. In 2021 ESC closed its doors and committed its archives to the care of Lake Institute on Faith & Giving. For further information on ESC or its archives, please contact us at lfi@iupui.edu.
Subscribe
---
Insights, a bi-weekly e-newsletter, is a resource for the religious community and fundraisers of faith-based organizations that provides:
Reflections on important developments in the field of faith and giving
Recommended books, studies and articles
Upcoming Lake Institute events