Resource Library

Reshaping the Narrative: Congregations Embrace Dialogue to Redefine Wholeness in San Antonio
Resource Library
Reshaping the Narrative: Congregations Embrace Dialogue to Redefine Wholeness in San Antonio
This article is written by Elizabeth Coffee, the Director of Storytelling at the H.E. Butt Foundation in San Antonio, TX. 
by Elizabeth Coffee
In May, I went to dinner with two churches. One church hosted. The other was a guest. The host church speaks Spanish predominately. The guests mostly don't. The host church cooked a meal they've prepared thousands of times. Many of the guests had never tried it: chicken mole with rice and borracho beans.   
The church hall buzzed with two different languages. Guests asked how to assemble their plates and hosts demonstrated assembly options. The mole was served out of a room-temperature ice chest to keep it warm. The borracho beans out of a metal pot marked with layers of love and use inside and out.   
The meal was preciously awkward. What was familiar to one set of people was unfamiliar to another. Yet, a table was set for everyone. After eating, the host congregation walked their guests around their neighborhood. They shared memories and reflections. Sitting back down at the table afterward led to rich dialogue concerning home and belonging. 
Sharing a Table
I was there because the family foundation I work for catalyzed this dinner and is supporting many others like it. This dinner is seen as a strategic intervention by the foundation. But why? Why pay for 15 church folks from different sides of town to have dinner with one another?   
San Antonio has been named one of the most economically segregated cities in the U.S. and one of the most impoverished major U.S. cities. These facts have a history. Our city was designed to be divided. And the narratives that are formed, cultivated, and perpetuated stem from the structural division of people.  
One of these churches is from a neighborhood where the median income is roughly 176% higher than the rest of the city. The other church, the one that hosted, is from one of the most economically challenged ZIP codes in all of Texas. The pastors from these congregations are an unlikely pair: Pastora Norma Quintero, an Assemblies of God pastor on San Antonio's Westside, and Rev. Brit Carpenter, an Anglican priest from affluent Alamo Heights.   
We call these dinners Shared Tables. We offer them for groups like these two congregations, but we also offer them to the larger public as an opportunity to eat a meal with 10–12 others they have never met from around the city.  
Embracing Dialogue
Shared Tables is part of a much larger storytelling initiative at the H.E. Butt Foundation, called Know Your Neighbor. In part, Know Your Neighbor exists as a digital platform to raise awareness of the root causes and structural reasons for economic inequity. But we have learned that we need to create space for in-person dialogue as well. Not homogenous, insular dialogue, but dialogue across differences that builds bridges of understanding. This will lead to narrative change for our city, by which we mean a more true and more whole story about ourselves as a city—and that is our goal.  
In the meantime, it could also lead to friendship.   
Pastora Norma and Rev. Carpenter ignited their relationship as members of one of our Narrative Change Cohorts, in which 12–15 diverse San Antonians take an in-depth journey together through city tours, workshops, and conversation, exploring the roots of the city's cultural and economic divides. Pastora Norma and Rev. Carpenter have studied together, eaten together, walked together, cooked together, and are now exploring what a multi-year church partnership can look like. And wisely, they know that if they are going to cultivate a partnership, it means ushering their churchgoers into relationship with one another, just as they have been.    
What began as intuition for us about the importance of relationship is now backed by research. Raj Chetty, professor of economics at Harvard University and the director of the Opportunity Insights research lab, says a key to economic mobility is something seemingly ordinary: friends. Chetty argues that economic connectedness – friendship across class – is one of the drivers of economic mobility. We aim to create opportunity and nurture conditions that lead to economic connectedness.   
We didn't have a clear storytelling strategy from the get-go but got here through trial and error as we attempted to communicate about the economic challenges faced by so many families in our community. Over time, we learned from both failure and success that relationship-building and the exchange of stories – which is not rocket science! – are what our city needs to redefine wholeness together and create structural solutions that benefit ALL San Antonians.   
Reshaping the Narrative
As a foundation that is learning its way into this work of narrative change, we depend on stories as well. It is, after all, stories of how our audience members are applying their learnings that keep us energized and innovating. When a surgeon who goes through our Narrative Change Cohort rethinks their practice's benefits structure and develops new pipelines for youth of color pursuing medicine, we perk up and persist. When a family rethinks where they're buying their house and where they're putting their kids in school, we think, maybe we are on to something, and we dig deeper. When a corporate executive reconsiders his company's belonging and inclusion efforts nationally, it seems as if we should keep going and perhaps expand our reach as well. And when congregations across race, denomination, and ZIP code find pathways of cooperation, we especially want to lean in because we believe churches can be catalytic to community transformation.
Storytelling and "story-listening" aren't for the faint of heart. They can be risky, or scary even. A deeply held narrative being challenged is not a fun feeling! It often requires significant, personal, internal work to write new narratives that change behavior. I say that as I actively check my own narratives of others who are different than me. What I've learned from doing this work is that it feels risky and scary to us because it can lead to connection. And connection can lead to compassion. And compassion can lead to change. But I'm a believer that investing in narrative change is worth the risk, and I invite you to take it with us.  
---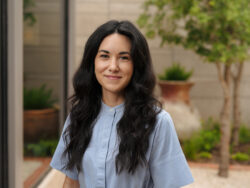 As the Director of Storytelling for the H. E. Butt Foundation, Elizabeth Coffee gets to nurture her deep love for San Antonio, Texas. The city formed her, and now she strives to be part of forming it. Her love of San Antonio is rooted in loving its people—diverse, everchanging, dynamic, and compassionate, San Antonians inspire her.
Elizabeth's work experience reflects more than a decade working alongside religious non-profits and leaders through community engagement predominately in San Antonio and South Texas. She is a master's student studying philanthropic studies at Indiana University in the Lilly School of Philanthropy. Through study and professional experience, she has made deep investments in the work of convening, connecting, and collaborating, always valuing the process of incorporating community voice.
Elizabeth believes that community repair comes from the work of building trust amongst each other.
---
Questions for Reflection
Start simple: Who can you share a table with in the next week? What conversation can you have that will broaden your perspective?
What narrative needs to be reshaped in your community? What's one step you can take toward that change?
Expanded Perspective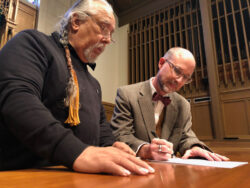 Our newest story in the Faithful Generosity Story Shelf highlights the importance of storytelling and listening between congregations and Native tribal communities on the Ramapough-Lenape Nation's land in parts of New Jersey and New York. Hudson River Presbytery transferred property to the newly created Sweetwater Cultural Center. "I'm excited this is happening in our county," said the Rev. Angela Maddalone, anticipating the opportunity for exchanges at Sweetwater that will deepen understanding and relationships.
Read the full story and explore how this might spark imagination in your own congregation and community.
In-Person ECRF Course in Atlanta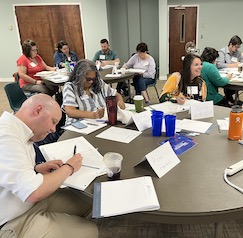 A recent ECRF participant shared about their experience this spring: "This certificate program was exactly what I needed as I seek to deepen my understanding of the theology of religious fundraising. I returned home with a plethora of resources to immediately put into practice in my church setting."
In partnership with Presbyterian College, our in-person Executive Certificate in Religious Fundraising fall cohort will be in Atlanta, GA. If you are a religious leader in a faith-based organization who wishes to learn more about the spirituality of fundraising and gain a core foundation in fundraising principles, join us in Atlanta! We've got a spot for you!
Learn more about the experience here.
Explore Your Community Social Capital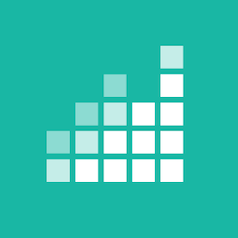 Elizabeth Coffee referenced the work of Raj Chetty in her article above. Explore the work of Opportunity Insights, an organization whose mission is to identify barriers to economic opportunity and develop scalable solutions that will empower people throughout the United States to rise out of poverty and achieve better life outcomes. Their social capital atlas allows you to explore social capital in your community. How can you use data like this in your own setting?
Subscribe
---
Insights, a bi-weekly e-newsletter, is a resource for the religious community and fundraisers of faith-based organizations that provides:
Reflections on important developments in the field of faith and giving
Recommended books, studies and articles
Upcoming Lake Institute events