Resource Library

Let's Talk About Resources
Resource Library
Let's Talk About Resources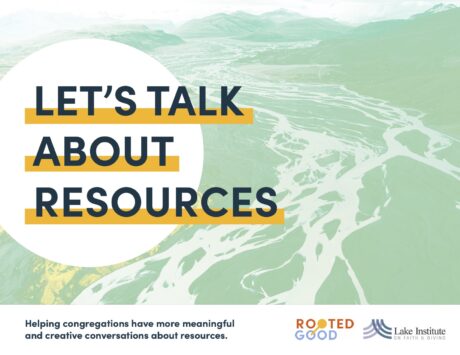 Let's Talk About Resources is a free tool designed to help religious leaders and congregations explore questions of creative resource allocation in small group conversations.
Co-created by Lake Institute on Faith & Giving and the innovative design team at Rooted Good, Let's Talk … uses case studies, games, and reflective discussion questions to facilitate creative conversations about how congregations can use their resources in service to their local community.
Let's Talk … can be used online or in person. It comes in two versions:
Let's Talk: The Cohort Model: This 90-minute discussion tool is designed for a cohort of religious leaders who want to explore questions about their use of resources in conversation with one another.
Let's Talk: The Congregation Model: This three-part discussion tool is ideal for congregational teams and retreats. It includes three 45-minute discussion modules that can be used across a series of meetings or built into a single retreat
Download both versions below, along with facilitation guidance.
COHORT MODEL CONGREGATIONAL MODEL
These tools include vignettes or 'case studies' about congregations using their resources in creative ways. You can use the vignettes included — or choose your own from our Faithful Generosity Story Shelf.
Subscribe
---
Insights, a bi-weekly e-newsletter, is a resource for the religious community and fundraisers of faith-based organizations that provides:
Reflections on important developments in the field of faith and giving
Recommended books, studies and articles
Upcoming Lake Institute events