Resource Library

Philanthropic Imagination
Resource Library
Philanthropic Imagination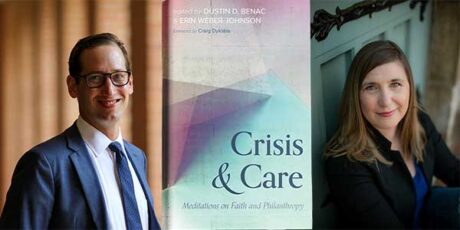 by Dustin Benac and Erin Weber-Johnson
Crisis and Care: Meditations on Faith and Philanthropy gives powerful witness to the philanthropic imagination that was sparked by the cascading and interlocking crises of 2020-2021. Co-edited by a professor of practical theology and a practitioner who consults with congregations about faith and finance, it gathered authors from across a shifting ecclesial ecology: congregations, theological schools, nonprofits, foundations, and consultants to collaborate and learn together. In this special Insights column, the editors reflect on what they learned and are carrying with them.
Crossing Over from Crisis
We could not have imagined a year like 2020 and yet, as an abundance of care rose to meet the gravity of crisis, we encountered people acting in new and life-giving ways.
Their combined words and witness bend our imaginations toward hope.
We offer this volume as our own act of care to the people, communities, and institutions we love. Like the people of Israel in Joshua 4, tasked to pick up stones as they cross the Jordan into the unknown future, our authors' words invite us to carry our stones together.
As we cross over, we will be carrying four significant stones. These reimaginings from Crisis and Care represent a shared philanthropic imagination that forms the basis of our hope.
1. Everything is an Experiment
As we look to the fall of 2021, many leaders are mindful that we are not returning to "normal." We are irrevocably changed. Truly, we are entering a new way of life together, one that requires curiosity, creativity, and a willingness to experiment. Not everything is going to work well right away, or at all.
Author Sunia Gibbs notes in her ministry, "Everything is an experiment; none of us have ever done this before."
Leaders over the past year and a half experimented with new funding models, implemented alternative strategies, and rightsized budgets. Both the experiment itself and the product of experimentation are places of learning, innovation, and growth.
As co-editors of Crisis and Care, we saw this volume as an experiment itself. It is within the lens of experimentation that the authors of Crisis and Care experienced freedom to reimagine a new way of being with and for each other.
2. A Faithful, Fragile Belonging
In a time of forced isolation intersecting with civil rights unrest, questions of our individual and collective belonging ruptured our collective imagination. As our authors noted, communities of faith must consider how generosity and justice shape a shared future.
Their words kindle a philanthropic imagination inspired by a faithful, fragile belonging, one that is networked, interconnected, mutually caring, and supportive.
This reorienting of our giving within the lens of a faithful, interconnected and fragile belonging, reroots what philanthropy could look like for a world in need of repair.
3. Making Space for Tension as an Act of Generosity
Philanthropic imagination emerges in the tension between discerning what we let go and what we keep. As author Aimée Laramore notes, there is something about a crisis that quickly clarifies what emergency bags we take with us and what we leave behind—what is still ours to carry and what is not.
As we work to rekindle philanthropic imagination, we learned that it exists in that space between the stories we've told ourselves about who we are, and who faith is calling us to become. Holding space for this tension can be an act of generosity.
As we look to the fall, we face the tension between what was and what will be. In our haste to cross over, we risk moving too quickly and missing philanthropic imagination in this "not-yet" space. Yet our authors' words and wisdom invite us to the generous work of holding space for the tension between marking our losses and sharing our hopes, the tension between grief and joy.
4. Philanthropic Imagination on the Edge of Certainty
We began this project on the edge of certainty. Guided by questions more than prescribed answers, we invited authors across sectors to reflect with us—without knowing the result. Their contextual curiosity displayed the interplay of philanthropic imagination within the stories and situations that structure their responses.
We realized that philanthropic imagination emerges on the edge of certainty, which extends beyond this moment. Even as we need structures of care, the renewal of philanthropic imagination also requires a willingness to live in the wilderness of uncertainty.
Living and leading amid uncertainty does not require isolation or individualism. Rather, as our authors displayed time and time again, a vibrant philanthropic imagination is contextual, collaborative, and conjunctive work. It requires a willingness to imagine what God is already doing in local communities, to partner together in formative and transformative ways, and to pursue possibility amid the either/or options we receive.
Surprise Not Strategy
As we cross over, carrying these stories as markers of memory and new possibilities, our authors have given us with one final insight: the renewal of philanthropic imagination more often comes as a surprise than as a result of a strategy. This project came to the two of us as a surprise. The stories of experimentation, faithful belonging, tension and generosity, and new imagination amid uncertainty came as a surprise. The gravity of crisis and the resilience of care came as a surprise. Even though we long for strategies, the surprising character of philanthropic imagination invites communities to live in light of the reality and possibilities of God.
God is with us in the space between crisis and care.
This is the great surprise in the story of the people of God, and it can be our story as we cross over.
So, will you join us as we cross over? Will you add your story to the stories that are told in this volume? Will you listen for other stories that can renew a hopeful philanthropic imagination for a new day?
As we mark this time, we remember we belong to one another. This reminder, this constant in the midst of change and cultural divisiveness, describes both human need and the great surprise that binds us together. It is fitting then, in belonging, we grow and learn.
Expanded Perspective
by David P. King, Ph.D.
There is little doubt that we are undergoing significant shifts in the ways we form and fund our life together. Research shows that patterns of philanthropic participation are changing across all types of groups and organizations. We see fewer households engaged in giving, some give much more, while others continue to contribute through long established religious and cultural traditions.
The religious landscape is changing too, with some congregations struggling to sustain members and budgets while others are growing. And these were the trends in place before the multiple social and economic crises we have faced over this past year!
The changes in faith and giving may be linked. Lower religious affiliation and activity may lead to less charitable giving and community engagement. At the same time, leaders in both faith and philanthropy are experimenting with new approaches to gathering, giving, and serving. Both philanthropic and faith leaders are grappling, each in their own ways, with questions of money and meaning. They hunger to think and talk more deeply about their fundamental purposes, in order to imagine a flourishing future for their communities. Yet the kinds of conversations that could help leaders attend to these foundational questions of purpose are not often happening, or not happening well. A first step, I believe, is embracing an openness to new questions, approaches, and tools to address the adaptive challenges our institutions are now facing. As Dustin and Erin so rightly acknowledge, we must make space for the imagination, experimentation, and inevitable tension that serve as the nutrients feeding a culture of generosity.
As we attend to this philanthropic imagination, the power of language becomes vital. Our many faith traditions give us deep wells to draw from. Yet, in relying on a limited imagination and a return to the same metaphors time and again, we can sometimes inadvertently abstract and sentimentalize faith and giving, resulting in a domesticated theology that has extracted any real sense of money-talk from our faith communities individually and institutionally. In so doing, we are depriving ourselves of some of the greatest assets from within our faith traditions in order to make our case, to consider our organization's future, as well as to explore new innovative practices and partners in working for a common purpose. At the same time, relying on stewardship sentimentality and abstract money-talk also limits leaders' abilities to confront issues of justice in our world where business practices, questions of privilege, and social ethics are completely wrapped up in economic issues.
It takes courage to cross over into an unknown future, but the stones that we carry with us are sufficient enough to sustain us as well as challenge us to live into a renewed philanthropic imagination that may guide our work in the days ahead.
Subscribe
---
Insights, a bi-weekly e-newsletter, is a resource for the religious community and fundraisers of faith-based organizations that provides:
Reflections on important developments in the field of faith and giving
Recommended books, studies and articles
Upcoming Lake Institute events