Resource Library

Reimagining Religious Spaces: Opportunity Exploration
Resource Library
Reimagining Religious Spaces: Opportunity Exploration
In Reimagining Religious Spaces (published June 9, 2020), Dave Kresta, PhD examines the many ways religious spaces can be reimagined to serve today's communities. The research presentation and report was prepared for the M.J. Murdock Charitable Trust.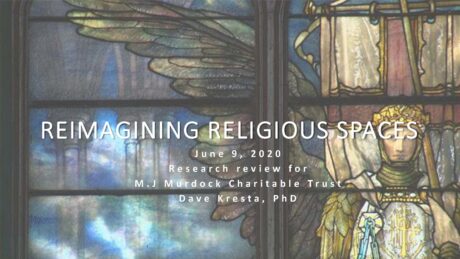 Reimagining Religious Spaces
Executive Summary
Churches across the nation are re-examining their current use of building, property, and capital. The M.J. Murdock Charitable Trust wished to develop a better understanding of the opportunities for community enrichment that reimagining these religious spaces may provide to communities in the Northwest. While a complete audit was beyond the scope of this study, denominational leaders report a minimum of 50 churches in Oregon that are likely to close within 5 years, with two to three times that many in danger of closing within 10 years. The city of Portland has determined that just over 600 acres of church land within the city across 435 properties is potentially available for affordable housing development. While opportunity abounds, challenges are significant as well. Tentatively called "Reimagining Religious Spaces", there are four primary challenges to this emerging field: 1) No roadmaps or guides, 2) Lack of domain knowledge in churches, 3) Complex, cross-sector collaboration required, 4) Difficulty connecting to financial capital.
A wide variety of service providers are participating in this emergent field, from small consulting non- profits formed specifically to engage in this field, to larger organizations within denominations and development firms. While affordable housing is garnering current headlines for church property reuse, other examples include arts space, community hubs, entrepreneur and business incubation space, co- working space, lofts, breweries, childcare, fitness, and more. A preliminary four-stage engagement model was developed to help churches chart their way forward: triggering event > process > action > space usage. Finally, a number of considerations for future action to move this field forward are provided.
Subscribe
---
Insights, a bi-weekly e-newsletter, is a resource for the religious community and fundraisers of faith-based organizations that provides:
Reflections on important developments in the field of faith and giving
Recommended books, studies and articles
Upcoming Lake Institute events