Resource Library

Back to School
Resource Library
Back to School
Starting this fall, we welcome Dr. Young-joo Lee as our new Eileen Lamb O'Gara Chair in Women's Philanthropy as well as Dr. Michael Moody as Professor of Philanthropic Studies. And while Dr. Tyrone Freeman is not new to the School of Philanthropy, we are glad to welcome in his new role as Glenn Family Chair in Philanthropy and are delighted to highlight how his work connects to Lake Institute's ongoing activities as well. We are pleased to welcome these engaged scholars to our school and excited to introduce them and their work to you!
We asked Drs. Freeman, Lee, and Moody to respond to some questions related to their research and connections with faith and giving.

When did your interest in philanthropy begin? What prompted you to begin to research philanthropy? 
Tyrone McKinley Freeman, PhD: My interest in philanthropy began while I was growing up within the Black Church. My parents led a church as pastor and First Lady. I was surrounded by generosity at every turn though I didn't formally recognize it then as such. To my young mind, people in the congregation were simply nice, caring, helpful, supportive. Now I know that they were deeply philanthropic. They had a genuine interest in and commitment to my well-being and that of the other kids in the church and each other.
I transitioned into my career as a scholar following a long career as a fundraiser for a variety of nonprofit organizations. It was my personal experience growing up in the Black Church and my professional experience raising money that led me to critical questions about philanthropy that I wanted to explore in academia.
Young-joo Lee, PhD: I study gender disparities in nonprofit leadership, and I believe addressing the gender gap in nonprofit leadership and understanding the mechanism behind it is an extremely important task for nonprofit researchers. The nonprofit workforce is predominantly female, and the vast majority of people who graduate from nonprofit education programs are also women. We are not going to tell these aspiring women that they can only become a mid-level manager or can only lead a small- and mid-sized nonprofit organization because of their gender.
This applies directly to religious organizations as well. Women have been long prevented from serving leadership roles in religious institutions, as religious leadership have traditionally been a male-dominated occupation. But these days, more women than ever are graduating from seminaries and other graduate programs in religion. But the proportion of female congregational leaders still remains very small. Something is not right.
Michael Moody, PhD: While I was an undergrad at IU-Bloomington in the late 80s, I was deeply involved in student community service and thought I wanted a career managing nonprofits. But then I took a job as one of the first employees of the then-new Center on Philanthropy at IUPUI, and the Center's founding visionary Robert Payton took me under his wing. He convinced me that my real interest was in "philanthropy" writ large, and that my career should actually be studying that subject and teaching others about it. Man, did I drink that Kool-Aid. And here I am still doing it more than 30 years later.
What is the research you're working on or questions you're asking right now that is most exciting to you? In thinking about your work, what connections might there be for someone interested in the intersection of faith and giving? 
TMF: A question that I am working on now is: what exactly is the history of Black philanthropy in America? What are its shapes, trajectories, ideas, critical actors, and turning points? These are very big questions and have implications for faith and giving due to the role of faith institutions in teaching, practicing, relying upon, and extending philanthropic giving as foundational elements of their doctrines and missions. To further complicate this, however, there's the added dimension of the contradictions of faith in the Black experience. Broadly, faith and its institutions both inspired, informed and nurtured the philanthropy that has undergirded and activated African Americans' long-standing struggle for freedom since America's founding, and faith and its institutions have inspired, informed, and nurtured the very oppression to which Black philanthropy originally arose as a response. We live with these tensions today. Consequently, I think understanding the Black philanthropic tradition in historical context is vital to engaging the contemporary role of faith institutions in helping a rapidly changing society address racial divisions and other social crises.
YJL: The status of women's church leadership has been one of my research interests. I am currently working on a research project looking at gender disparities in clergy compensation with Dr. David King and Dr. Brad Fulton at IUB.
MM: I'm doing a number of projects – including research on family and community philanthropy in Mexico, and a study of how fundraisers are adapting to new kinds of major donors – but maybe what is most relevant here is a long-term project I'm doing to better understand the "donor journey" in all its complexity, variations, and messiness. I'm studying donors of all sorts, gathering data on their distinctive philanthropic stories – both what they've learned and done, and how the philanthropy of others has affected their path. That work will be the subject of my next book.
Many of the donors I'm studying put religion and faith squarely at the center of the story they tell of their philanthropic journey. But HOW faith matters varies quite a bit across these donors. I'm finding there is no one "standard" way that faith and giving intersect for people, which I think is somewhat different than many observers would assume.
What is something that you have read, watched, or heard recently that made you think differently about philanthropy? 
TMF: I have enjoyed reading The Art of Doing Good: Charity in Late Ming China by Joanna Handlin Smith because it traces the development of charitable institutions and philanthropic practices in China during the 1600s back to Buddhist, Confucian, and Daoist ideas and practices from thousands of years before. It's funny how today we often think of philanthropy as something that almost exclusively belongs to the millionaire and billionaire elite, or even owned exclusively by Americans. Rather, this book provides further evidence that philanthropy is part of our common collective human heritage across race, culture, class, geography, and time.
MM: Good question. What comes to mind first is the steady decline in the number of households who say they "give" in the way we've always considered the primary act of philanthropy – donating to a charity. We've known about this for a while – especially because of research done at the Lilly Family School – but we are still trying to figure out the reasons for, and consequences of this. And if this trend continues, I think we will all have to rethink how we talk about philanthropy as a normal human activity. People are showing that they are "giving" in many different ways beyond those ways that we usually count.
As a historian, what do you see as the role of faith communities in framing the landscape of philanthropy? 
TMF: As arguably the primary and most dominant institutions that regularly teach—directly and indirectly— philanthropic giving daily to the population at large, faith institutions could be said to shape the actual landscape of philanthropy. So, as religious identification, membership and engagement continue to fluctuate downward (however imperfectly defined or measured), we must ask ourselves where and how will we learn—at a mass scale—to give?
Your research is partly focused on gender disparities in nonprofit leadership. What has surprised you most in your research? 
YJL: What surprises me always is that women are still severely underrepresented in large nonprofit organizations' leadership, including their governing boards and top management, even though women make up a majority of the sector's CEO positions and board membership. Research also finds that female nonprofit executives are paid significantly less than their male colleagues. My research looks at how different dimensions of gender disparity in nonprofit leadership are inter-related. For instance, underrepresentation of women in large nonprofit organizations' board contributes to the underrepresentation of women in their executive leadership. Which in turn, leads to the gender pay gap in the nonprofit sector because larger organizations pay their executives better.
You have spent a lot of time focused on understanding next gen donors. Your book, co-authored with Sharna Goldseker, Generation Impact: How Next Gen Donors Are Revolutionizing Giving is an important study here. What was something that you found next gen donors share in their philanthropic endeavors? What should faith-based leaders know about new generations of donors?
MM: There is a whole lot in that book about next gen donors, so I'll just talk about what we found related to faith among the rising major philanthropists we studied. The short version is that we found the next gen was, on the whole, less interested in giving to religious causes than previous generations of big donors – which is not a surprise. BUT those next gen donors who said they were religious DO continue to give to religion even as their non-religious peers didn't. Also, this smaller subset of religious next gen donors wants to engage with faith organizations in different ways than their elders. They want to be more hands-on, to try out new ideas, and to expect to see real impact from their gifts. That presents a challenge for all religious nonprofits looking to better engage these younger major givers.
---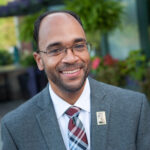 Dr. Tyrone McKinley Freeman is the Glenn Family Chair in Philanthropy at the Indiana University Lilly Family School of Philanthropy where he teaches and researches fundraising, the history of philanthropy, Black philanthropy and Africana Studies. Formerly a fundraiser in community development, youth and family social services, and higher education organizations, he also served as Associate Director of The Fund Raising School where he trained fundraisers in the US, Asia, Africa, and Europe. His book, Madam C.J. Walker's Gospel of Giving: Black Women's Philanthropy during Jim Crow, won Association of Fundraising Professionals Skystone Partners Research Prize, the Terry McAdam Book Award, the Peter Dobkin Hall History of Philanthropy Prize, and the F3 Madam Walker Legacy Award. He is a 2022 recipient of the Dan David Research Prize—"the largest history prize in the world"—and a proud HBCU alum of Lincoln University (PA). He is married to his LU sweetheart, Michelle, and they have two young adult children, Alexander and Olivia.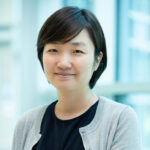 Young-joo Lee, PhD is a Professor of Philanthropic Studies and the Eileen Lamb O'Gara Chair in Women's Philanthropy at the Lilly Family School of Philanthropy. She is an organizational theory/behavior scholar, and her research centers on nonprofit governance and management, volunteerism, and diversity, equity, and inclusion (DEI). She has also been studying religious congregations throughout her career, and in hear research, she takes a management approach to understanding how they can thrive in a changing environment. Her article "Is Your Church "Liked" on Facebook? Social Media Use of Christian Congregations in the United States" (in Nonprofit Management Leadership) was one of the top downloaded articles in 2017-2018 and has been highly cited.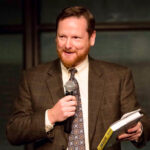 Michael Moody, PhD is Professor of Philanthropic Studies at the Lilly Family School of Philanthropy at Indiana University, Indianapolis. Prior to this, he was the first holder of the Frey Foundation Chair for Family Philanthropy at the Johnson Center for Philanthropy at Grand Valley State University. Trained as a cultural sociologist, with a Ph.D. from Princeton, Dr. Moody is co-author of the best-selling books Understanding Philanthropy: Its Meaning and Mission, The Philanthropy Reader, and Generation Impact: How Next Gen Donors Are Revolutionizing Giving. He is a frequent speaker and sought-after commentator on philanthropic trends whose work has been featured in the New York Times, Washington Post, Forbes, Chronicle of Philanthropy, Stanford Social Innovation Review, and many others.

---
Questions for Reflection
Are there any areas of research shared by the faculty that you'd like to explore?
How might you include the academic study of philanthropy in the work you do?
Expanded Perspective
Lake Doctoral Dissertation Fellow 2023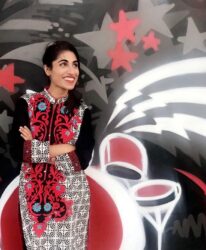 We are excited to announce our newest Lake Doctoral Dissertation Fellow!
Salwa Tareen is a Ph.D. candidate in Anthropology at Boston University. She holds a B.A. from Kalamazoo College and an M.T.S. from Harvard Divinity School. Salwa's research broadly explores the interplay between religion, ethics, and the politics of care in Muslim South Asia. Her dissertation, "Of the City and the Soul: Urban Disaster and an Islamic Ethics of Care in Karachi," examines how city residents utilize charitable giving to address the challenges of their urban environment. In addition to her academic work, Salwa is an arts organizer, poet, and essayist.
Salwa's dissertation explores how residents of Karachi, Pakistan, one of the world's megacities and arguably its largest Muslim city, utilize charitable giving to address everyday disasters of infrastructure and governance. In the absence of formal avenues of grievance and redress, charitable organizations and individuals provide a vital safety net for Karachiites, as well as a platform for their indignation. Charitable workers across the city repair roads, clear garbage heaps, drain sewage, and provide rescue services through mechanisms of religious giving. Building upon 15-months of ethnographic fieldwork, the present project considers the material and ethical dimensions of such giving as a means to care for one another and the city itself.
Public Talk with Dr. Tyrone McKinley Freeman
As part of our emerging work alongside Black faith communities, Dr. Tyrone McKinley Freeman will join us on October 6 in Indianapolis to give a keynote address on "What the Black Church Taught Me about Generosity, and What It Means for Faith and Philanthropy Today!" You can join us at 11 am in person or livestream.
The Thomas H. Lake Scholarship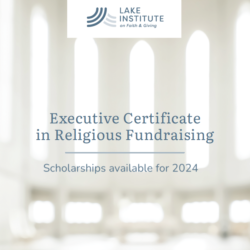 The 2024 scholarship application is now open for the Executive Certificate in Religious Fundraising (ECRF). The ECRF is designed for religious leaders in faith-based organizations and institutions who wish to learn more about the spirituality of fundraising and gain a core foundation in fundraising principles. Scholarship criteria include both demonstrated financial need as well as the potential for applying course learnings in your current professional context, and will apply toward any 2024 ECRF open enrollment offering.
Subscribe
---
Insights, a bi-weekly e-newsletter, is a resource for the religious community and fundraisers of faith-based organizations that provides:
Reflections on important developments in the field of faith and giving
Recommended books, studies and articles
Upcoming Lake Institute events