Resource Library

Who Wants to Be a Mission-Focused Steward?
Resource Library
Who Wants to Be a Mission-Focused Steward?
By Eric Law
This article was originally published in Giving Magazine Vol. 21, No. 1 in 2019. You can access the full issue here.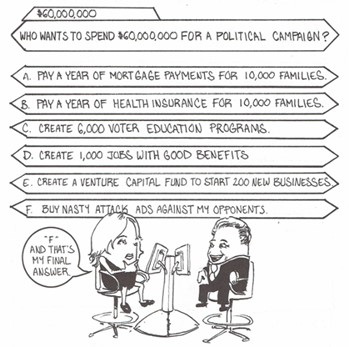 In week forty-three of Drawing on Holy Currencies, a stewardship weekly workbook, my nephew, Dave, drew a cartoon depicting a candidate for public office in a game show called, "Who Wants to Spend $60,000,000 for a Political Campaign?" (In 2017, total campaign spending on Georgia's 6th Congressional District special election was close to $60 million.) Among the answer choices were paying people's health insurance or home mortgage, providing voter education programs, and creating programs that provide new jobs and start new businesses. The contestant chooses "F" as her final answer: buying $60 million worth of nasty attack ads against her opponent.
While this cartoon is a sad statement about our political system in the United States, it is a reminder that there are creative ways to use our resources to foster wellness for our communities. More importantly, we are free to make the choices that provide life and blessings.
Individually, stewardship is a daily decision to choose life and blessings in exchange for my currencies: money, time, place, leadership, relationships, and truth. Collectively, a stewardship movement is a year-round invitation for the people of our community—both members of the church and the neighborhood—to choose life and blessings by dedicating their currencies to support ministries that foster spiritual, social, physical, economic, and ecological wellness. The Greek word for "holy" is α′γιος (hagios), which means "set apart for (or by) God." This action of setting aside our resources for wellness and blessings is the act of making our currencies holy.
In order to mobilize this movement, we must be able to articulate our mission—the blessings that our ministries provide.
So many church mission statements tend to be in language that is hard to understand in terms of what the church specifically wants to accomplish. They often contain church jargon that is only understood by church members. If we are to articulate a mission that can drive our stewardship movement,
our mission statement must be public;

our mission statement must be concrete and comprehensible to not only church members but also people in the community;

our mission statement must name the truth of an unacceptable reality—the wellness needs in our community discerned from trusting relationships we build with people in our community; and

our mission statement must provide channels  of  currency  exchange  that address this unacceptable reality, moving the people in the community toward greater life and blessings.
In Holy Currency Exchange, I propose a way of crafting a mission statement that captures the dynamic exchanges of our resources and ministries for blessings. Here is the step-by- step process:
What is the product or service that this ministry provides? This product or service can be any of the currencies: time, place, gracious leadership, relationship, truth, wellness, and money.

Who is your client/guest?

What are the benefits/blessings that this ministry cultivates? In other words, what blessings result from an exchange between the product/service and the client/guest? Again, blessings can be any of the currencies: time, place, gracious leadership, relationship, truth, wellness, and money.)

Create a mission statement based on your answers to the above questions by combining the following two simple sentences:

We provide [product or service] for [customer/client/guest].

We help [customers/client/guest] do/ achieve/other verb [primary benefit/ blessing].
Try writing a mission statement for an existing or new ministry using this process. Be sure to capture the dynamic flow of more than one blessing. For example, "We provide food for the hungry" is a static statement because it only utilizes one exchange. However, "We provide food, a place, and a community network for disadvantaged people to discern a sustainable future" is a dynamic mission statement that names exchanges of the currencies of wellness, place, and relationship.
Here is an example of an effective mission statement:
Homeboy Industries provides hope, training, and support to formerly gang-involved and previously incarcerated men and women, allowing them to redirect their lives and become contributing members of our community.
The unacceptable reality, the truth, embedded in this mission statement is that formerly gang-involved and previously incarcerated men and women do not become contributing members of our community. To address this, Homeboy Industries does not ask their donors to give money to pay for the utility and upkeep of their buildings. Homeboy Industries does not ask them to give so that they can pay the salaries of their staff to run their bakery, the print shop, and restaurants. Homeboy Industries invites their donors and patrons of their social businesses to exchange their money, time, and talents for the blessings of hope, training, and support so that we can nurture more contributing members of our community! When we have a mission that clearly points toward life and blessings, asking people to give is easy.
So, what is the mission of your church? What is the mission of the various ministries to which you want people to commit their currencies? What is the truth, the unacceptable reality that your mission addresses? How does this mission align with God's vision for life and blessings for the people in your community? How do the ministries of your church become channels for currency exchanges that invite the people of your community to choose life and blessings?
The Rev. Dr. Eric Law is an Episcopal priest and the founder and director of the Kaleidoscope Institute, which provides resources to equip church leaders to create sustainable churches and communities. He has been a consultant and trainer for over twenty- five years and is the author of ten books including Holy Currencies and Holy Currency Exchange. He writes a weekly blog called The Sustainist: Spirituality for Sustainable Communities in a Networked World.
Giving Magazine was a premier stewardship resource published by the Ecumenical Stewardship Center (ESC) from 1999 until 2020. The magazine served Christian faith communities throughout North America, providing thoughtful, practical, and inspirational content on faith and giving from thought leaders and practitioners alike. Giving was published annually from 1999 until 2018 (volumes 1-20), and then quarterly in 2019 and 2020 (volumes 21-28) in digital form only. In 2021 ESC closed its doors and committed its archives to the care of Lake Institute on Faith & Giving. For further information on ESC or its archives, please contact us at lfi@iupui.edu.
Subscribe
---
Insights, a bi-weekly e-newsletter, is a resource for the religious community and fundraisers of faith-based organizations that provides:
Reflections on important developments in the field of faith and giving
Recommended books, studies and articles
Upcoming Lake Institute events