Resource Library

Women's Online Giving and Crowdfunding
Resource Library
Women's Online Giving and Crowdfunding
Women's Online Giving and Crowdfunding: Considerations ahead of GivingTuesday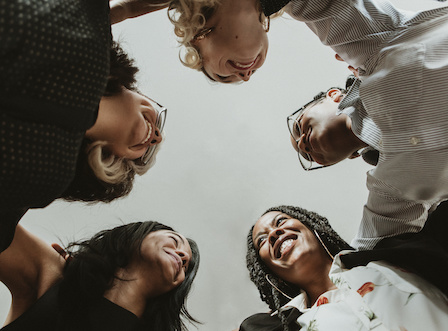 The Women's Philanthropy Institute (WPI) at the IU Lilly Family School of Philanthropy increases understanding of women's philanthropy through rigorous research and education—interpreting and sharing their insights broadly to improve philanthropy. With Giving Tuesday around the corner, we asked Jacqueline Ackerman—WPI's Associate Director of Research—to share some insights around their research on women's online giving and crowdfunding.
---
Giving Tuesday and the holiday giving season are right around the corner. This time of year provides a wealth of opportunities to connect with donors, especially online. Research from the Women's Philanthropy Institute (WPI) informs how charitable organizations can take advantage of this time to connect in an intentional way with their women donors, as well as bring in new donors.
WPI studies have shown that:
Women are more likely than men to give to charity online;
Women are more likely than men to give on GivingTuesday; and
Women are increasingly contributing to crowdfunding campaigns.
What does this research mean for donors and nonprofits leading up to the giving season? And what actions can charitable organizations take to engage their women donors?
Setting the stage: Women give more than men online—and on GivingTuesday
A 2020 WPI study that analyzed four different online donation platforms discovered that when it comes to giving online, women give more gifts than men, and contribute a greater proportion of dollars than men. This sounded familiar to the WPI team—for more than a decade, our research has consistently shown that women are more likely than men to give to charity, and give higher amounts than similarly-situated men. Women Give 2020: New Forms of Giving in a Digital Age confirmed that this is true not just for overall giving, but specifically for online giving. The report also found that women give smaller gifts than men, and tend to donate to smaller nonprofit organizations. This may be one reason why women don't seem to get as much recognition for their giving.
Another WPI study showed that women drive philanthropy on GivingTuesday. On that day, giving goes up sharply for both women and men—but women are even more likely to give on GivingTuesday compared to men, and women give more dollars on that day. This is important information for charitable organizations looking to fundraise on GivingTuesday—paying attention to women donors is key!
What are some simple, research-based ways to engage women donors? Make sure your messaging appeals to both the head and the heart of your donors. Stay connected to them year round, not just in December. Recognize and thank donors for non-financial gifts like volunteering, advocating for your organization, and sharing about you with their networks. And build community between your donors as well; provide opportunities for them to connect not only with you but with one another.
Women and crowdfunding: The future is bright
Have you been doomscrolling in the last year and a half? One of Merriam-Webster's "words to watch," this refers to scrolling through mountains of bad news, even if it's depressing. The news cycle can induce fear and anxiety, given the challenges we face these days. But I have found that my doomscrolling is often broken up by my friends and acquaintances who have set up Facebook Fundraisers, GoFundMe campaigns, or Venmo requests to raise money for families and communities in need.
Gender and Crowdfunding, a study WPI published this past September, supports what I've seen anecdotally. It found that nearly 1 in 3 women (31.1%) give to a crowdfunding campaign in a typical year, and 40.8% have given to a crowdfunding campaign at some point in the past. Women crowdfunding donors tend to be younger and have higher levels of education compared to women who do not give to crowdfunding campaigns.
One insight that stood out: fully 94.6% of women crowdfunding donors said they plan to increase their crowdfunding donations in the near future (31.3%) or at least continue to give at their current level (63.3%). This demonstrates that organizations looking to cultivate the next generation of donors must start building strong crowdfunding strategies.
What might that look like? It could involve asking your supporters to host a virtual birthday fundraiser. Perhaps you have a major donor who would be willing to match gifts raised through donors' social media crowdfunding campaigns. Your organization can also initiate a crowdfunding campaign for a specific goal or project.
The Gender and Crowdfunding report uncovered interesting nuances that can help organizations think about how to best support and engage donors. For example, women crowdfunding donors are willing to share about causes and projects on social media but are reluctant to directly ask people in their networks to give. One way to address this is by providing donors with pre-written asks and toolkits to help guide their fundraising, and showcasing success stories of other women who have raised significant dollars through crowdfunding.
Women also say that crowdfunding can highlight and help donors connect to projects, but they express concerns about transparency and accountability. When your organization launches crowdfunding campaigns, be sure you're crystal clear about how the funds will be used and how donors will be kept informed of progress.
Both crowdfunding and GivingTuesday campaigns are incredibly powerful tools for philanthropy, because they empower anyone and everyone to be a philanthropist. We look forward to seeing how these forms of generosity continue to expand and evolve in our increasingly digital world. For nonprofit organizations, crowdfunding and fundraising on GivingTuesday offer opportunities to engage with women donors, which will yield exponential benefits in the future.
Expanded Perspective
by Avery Crews Prado de Lima, Lake Institute Graduate Assistant
As Jacqueline Ackerman noted, GivingTuesday is a day of radical global generosity and was created with the simple idea of encouraging people to "do good" within their communities and to people around them. Established in 2012, GivingTuesday is held the Tuesday after Thanksgiving and has aided nonprofits in the United States in raising more than $1.9 billion in donations.
Many religious organizations have not yet engaged in GivingTuesday and wonder how they could cultivate a GivingTuesday campaign to bring visibility to the opportunities available in their organization and community. GivingTuesday provides opportunities to share the organization's voice and impact within their community. It also allows an organization to show support for other causes, engages existing donors and attracts new ones, and markets the organization and its mission to a broader audience. This day of global generosity is a day that seeks to encourage the giving spirit among people while matching needs with possible donors, support, and resources.
When I began my internship with a community foundation in Indiana earlier this year, I knew very little about GivingTuesday and all of the work necessary to build a successful campaign and truly impart change upon a community. Working on this campaign has provided me with insight on successfully running a GivingTuesday campaign and the many ways that organizations and individuals can become involved in this global day of giving.
Top Three Tips for GivingTuesday Campaigns:
Focus on Storytelling! What is the impact you are seeking to create through the GivingTuesday campaign? Are there specific groups or projects you wish to target or support? Make these obvious in the story you tell and the message you spread throughout the campaign.
Consider New and Existing Partnerships! Are there organizations that are doing what you seek to do? Are there nonprofits that have a mission that aligns with a congregational goal? Nurture these partnerships so they can grow into long-term relationships that engage the community and allow the organization to meet its goals.
Look Beyond Financial Gifts! Do you have tasks that need to be completed? Or maybe staff or members with specific skills that they wish to share with the community? Consider the many gifts that can be given as part of GivingTuesday and the way the organization can get people involved without donating money.
GivingTuesday has the capacity to empower all people and organizations to behave generously and engage their communities and constituencies in acts of radical generosity.
GivingTuesday will take place on November 30 this year, and there are many ways that you and your organization can become involved and give back this year. Additional information on Giving Tuesday and its roots can be found here: https://www.givingtuesday.org/
Subscribe
---
Insights, a bi-weekly e-newsletter, is a resource for the religious community and fundraisers of faith-based organizations that provides:
Reflections on important developments in the field of faith and giving
Recommended books, studies and articles
Upcoming Lake Institute events