Resource Library

Close to Home: The Role Proximity Plays in Giving
Resource Library
Close to Home: The Role Proximity Plays in Giving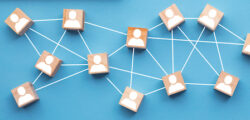 by David P. King, PhD
This time last year, my family and I were packing in preparation for moving overseas, with a bit of uncertainty about what we would experience. This year we are spending the holidays much closer to home. And that has gotten me thinking about the role that proximity plays in giving.
Most movies and songs of the holiday season focus on time spent (for better or worse) in proximity to family and friends. And those that do not focus on being home, tell stories of trying to make it home. The classic crooner Bing Crosby first sang "I'll Be Home for Christmas," and countless others have been covering that tune ever since. And Home Alone gives us a cautionary tale of what can happen when your family leaves you behind at this time of year.
The core activities of the season—sharing food, exchanging gifts, and traveling to be near each other—are largely about being in relationship with one another. We engage in these activities with those that we care about, and, reciprocally, it is through such activities that relationships often grow. If we know that relationship is central to giving, why does philanthropy sometimes seem to overlook proximity and relationship in exchange for distance and formality and a focus on 'effectiveness'? Of course, these qualities need not be treated as opposites. Many philanthropic efforts try to hold them together. But too often it feels like we are being forced to choose between them.
Place-Based Philanthropy
The virtue of proximity is in fact getting more attention in philanthropy at present. Even as we are ever more aware of global issues and needs, we are also more mindful of our carbon footprint and attuned to the positives of shopping and eating locally. Philanthropy is not immune to these trends. An interest in place-based philanthropy has arisen that extends well beyond community foundations. Place-based philanthropy focuses on the unique capacity of local communities to work on their own transformation. This means privileging proximity, in the form of physical presence within a community, but it also emphasizes forms of understanding and local wisdom that transcend expertise. So too, as organized philanthropy has engaged more directly in funding equity and social justice work, it has also realized the need to work with "proximate leaders" – those who are both rooted and respected within the communities they serve. While proximity does not automatically establish authentic relationship, it certainly helps.
Beyond institutional philanthropy, we also know that, for most of us, most giving is local. People like to give to where they have a connection and where they can see their gift making a difference. That's true for giving to a local congregation or soup kitchen, or just helping a friend pay for diapers or medical treatment. In giving, we are often building on a connection that we already share. And rarely is the giving simply a transaction. As Lewis Hyde illuminates for us in his classic text, The Gift, with help from anthropologists and storytellers alike, reciprocity and relationship are deeply built into practices and cultures of giving.
Relationships and Community
In this way, giving can lead us into a virtuous cycle. Giving not only depends on connection and community, but also has the capacity to foster connection and community. There is genuine and legitimate concern today (expressed by the Generosity Commission for example) that, as the percentage of Americans who give and volunteer declines, we might also see a decline in the glue that holds us together both in local communities and in civil society. If our communities have been disrupted, fractured, and weakened by the pandemic, polarization, and growing inequality, perhaps there is an even greater need now for the type of giving, volunteering, and civic engagement that can reweave threads within our communities. Again, we are betting on the power of this virtuous cycle. If giving depends on and is deepened through relationships and community, perhaps building deeper relationships and communities can lead to greater giving.
And so, if it is true that giving and community cannot be separated, then there is no better time to attend to these intersections than now, as we reflect on the power of relationships and of giving at this time of year. What are the friendships, networks, or faith communities that have inspired you to give? Where has your giving – in whatever form – led you into deeper relationship with others? As we take stock this time of year, how are we working to draw nearer to others? How are we living in proximity with others in the communities to which we belong? As we reminisce about those close to us at this time of the year, I would challenge us to consider what that might mean for our giving in the year ahead.
---
Questions for Reflection
When is proximity especially important in your own giving?
Thinking about the virtuous cycle that David King describes, in which giving fosters connection and connection fosters giving … which comes first—relationship, or gift?
Expanded Perspective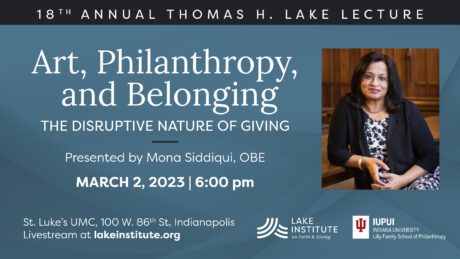 We are excited to share that the 18th annual Thomas H. Lake Lecture is scheduled for March 2, 2023 with Mona Siddiqui, OBE as our speaker. The event will be held at St. Luke's UMC in Indianapolis and via livestream.
Executive Certificate in Religious Fundraising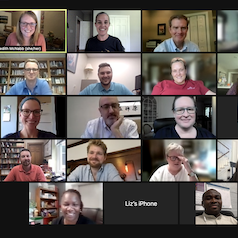 Our online Executive Certificate in Religious Fundraising cohorts for 2023 are open! This eight-week course for religious leaders seeking education on religious fundraising offers at-your-pace study through our learning management system, alongside weekly plenary and peer group zoom meetings. Each week you get to apply what you're learning in your own context and have conversation partners to support you all along the way.
Lake Doctoral Dissertation Fellowship 2023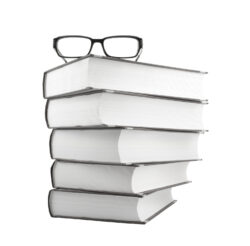 We are now accepting applications for the 2023 Lake Doctoral Dissertation Fellowship! This one-year grant is given annually to support a graduate student whose research engages and intersects issues within religion and philanthropy or faith and giving. It is intended to support the final year of dissertation writing for a doctoral candidate at a U.S. graduate school. Please share widely!
Subscribe
---
Insights, a bi-weekly e-newsletter, is a resource for the religious community and fundraisers of faith-based organizations that provides:
Reflections on important developments in the field of faith and giving
Recommended books, studies and articles
Upcoming Lake Institute events