Lake Doctoral Dissertation Fellowship
---
This one-year grant is given annually to support a graduate student whose research engages and intersects issues within religion and philanthropy or faith and giving. It is intended to support the final year of dissertation writing for a doctoral candidate at a U.S. graduate school.
Required criteria for applicants
Be a candidate for a Ph.D. degree at a graduate school in the United States
Fulfill all pre-dissertation requirements by December 31 of the year applying, including approval of the dissertation proposal with the expectation that the dissertation will be completed no later than July of the year following the fellowship grant year
Must not have received a similar grant or fellowship for the writing of the dissertation. Fellows may not accept other awards that provide similar benefits in the same academic year. We anticipate that with funding from Lake Institute, you will be able to complete and defend your dissertation during the fellowship year. If you are receiving a full stipend from your school, we ask that you bank or postpone it to accept the Lake Fellowship. Smaller awards and/or those involving limited opportunities to teach may be permitted, at the discretion of the Research Advisory Committee of Lake Institute on Faith & Giving.
Submit application and other requested documents by January 31.
---
Fellowship benefits
Receive three award payments totaling $25,000
Be invited to special research-focused Lake Institute engagements
Have the opportunity to take advantage of the Lake Institute's resources and expertise
Share your research through our website and citations in our seminars
---
How to apply
To apply, please fill out the online form, upload the required documents, have your letters of recommendation uploaded and send an official transcript (unofficial transcripts are also accepted). All application materials must be received by January 31. Applications must include the following:
Resume/CV
Executive summary: No longer than 15 pages summarizing your topic and its relevance for the understanding of an important question(s) or issue(s) related to religion and philanthropy or faith and giving. Please write this executive summary so that scholars outside of your discipline would not have difficulty comprehending your proposal.
Copy of the approved dissertation proposal: Describing the proposed work, demonstrating relevance to the field of religion and philanthropy, describing source materials and their availability, commenting on any special skills or interests you have for carrying out the proposed work, and giving a clear statement of the research or scholarly methodology to be employed. Please make sure to include the signature page of the proposal.
A selected bibliography: No longer than two pages, double-spaced, indicating the major theoretical, practical and critical works that bear on your dissertation. This means you should include those works that most clearly demonstrate your command of the scholarship necessary to write the proposed dissertation. In most cases this will already be part of your proposal.
A timetable: Detailing your chapter outline, your progress to date, and your schedule for the fellowship year. It should be no longer than one page, double-spaced.
Three letters of recommendation: One from your dissertation director and two from faculty members familiar with your work. Share this link with recommenders to upload letters.
Official or Unofficial Transcript from the graduate school which will award the Ph.D. degree. Transcripts must be uploaded along with the other documents.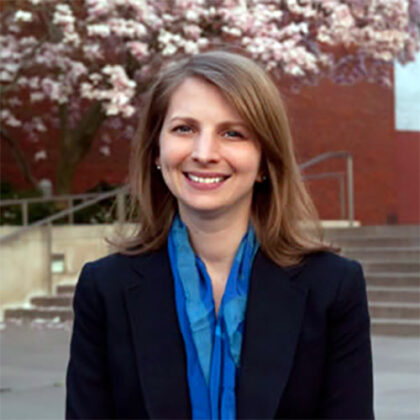 "The Lake Doctoral Dissertation Fellowship was a tremendous boost to my studies. Their financial support allowed me to do field research in Africa and write a much stronger dissertation than I otherwise could have done. And my association with the institute has introduced me to a new network of practitioners and scholars. I'm very grateful for the Lake Institute's support of my work."
Allison Schnable, 2012 Lake Doctoral Dissertation Fellowship recipient, Princeton University
2022 Lake Doctoral Dissertation Fellowship Recipient
Feyza Akova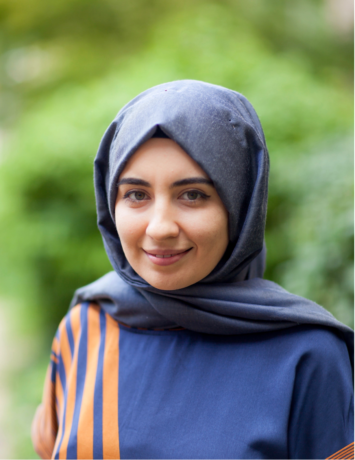 Feyza Akova is a Ph.D. candidate in the Department of Sociology at the University of Notre Dame. Prior to joining Notre Dame, Feyza earned an M.A. in Sociology from University of Houston and B.A. degrees in Sociology and Psychology from the University of Istanbul. Feyza has won several teaching and research awards, including the Midwestern Association of Graduate Schools (MAGS) 2022 Excellence in Teaching Award and the Robert J. McNamara Student Paper Award from the Association for the Sociology of Religion. Her dissertation project, "Journeys to Traditional Sufi Islam in America: Self-transcendence, Tradition, and Social Change in the Contemporary Modern World," has been supported by the Center for the Study of Religion and Society and Institute for Scholarship in the Liberal Arts at the University of Notre Dame.
Dissertation Abstract
Journeys to Traditional Sufi Islam in America: Self-transcendence, Tradition, and Social Change in the Contemporary Modern World
Feyza Akova's dissertation focuses on modern Americans' attraction to traditional Sufism and explores what traditional Sufism offers at the individual, local, and societal levels. More specifically, her dissertation examines the process of self-transcendence rooted in the Sufi philosophy of transcending the nafs (i.e., the lower self or ego) and describes its connection with spiritual transformation, local community services and giving, and broader systemic change. Using in-depth interviews with converts to Sufi Islam and participant observation activities, Feyza's dissertation reveals the impact of the Sufi idea that meaningful change can come from processes of self-transcendence. In particular, Feyza's project explores how the concept of transcending the nafs encourages service, generosity, and love and promotes meaningful social change.
Past Recipients
2021 – Esra Tunc
2020 – Marie Stettler Kleine
2019 – Timothy M. Rainey II
2018 – Katie Merriman
2017 – Andrew Jungclaus
2016 – Kimberly Pendleton
2015 – Shai Dromi
2014 – Chris Taylor
2013 – Moshe Kornfeld
2012 – Allison Schnable
2011 – David King
2010 – Jared Peifer
2009 – Sarah Hammond
2008 – Bradley Koch
Subscribe
---
Insights, a bi-weekly e-newsletter, is a resource for the religious community and fundraisers of faith-based organizations that provides:
Reflections on important developments in the field of faith and giving
Recommended books, studies and articles
Upcoming Lake Institute events