Resource Library

Giving While Muslim
Resource Library
Giving While Muslim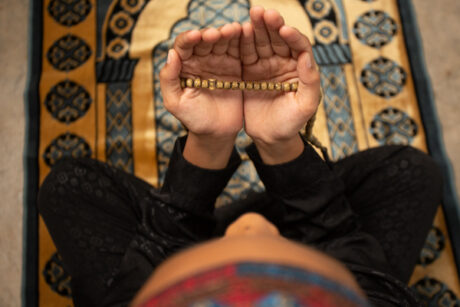 By Muhi Khwaja, American Muslim Community Foundation, Co-Founder and Director of Development & Philanthropy
Each and every person can be a philanthropist, and I believe philanthropy is more about generosity than it is about wealth. As a Muslim, I am invited by my faith to give of what I love. In Ramadan, all around the world, Muslims join in fasting and charitable giving through acts known as zakat and sadaqa. There is a hadith or saying in our tradition by the Prophet Muhammad (peace and blessing be upon him) that: "The best charity that is given is during Ramadan."
Ramadan is the ninth month in the Islamic lunar calendar and in 2021 falls between April 12 and May 12. Billions of Muslims increase their spiritual worship and inward reflection towards God. It's also the busiest time for Muslim nonprofits.
As Muslims around the world celebrate a second Ramadan amid the pandemic which has changed both gathering practices as well as revealed a widening wealth gap, I am reflecting on the generosity within our communities. According to a survey conducted by the Yaqeen Institute for Islamic Research last year, 57% of respondents intended to donate more to relief organizations, 35% intended to donate more to educational organizations, and 39% intended to donate more to the mosque compared to Ramadan in 2019.
Dr. Shariq Siddiqui, assistant professor at Indiana University and Director of the Muslim Philanthropy Initiative, claims that nearly 80 to 90 percent of annual budgets for Muslim-led organizations are raised in the month before, the month of, and the month after Ramadan.
To bolster Muslim philanthropy in the U.S., in 2016 I started the American Muslim Community Foundation (AMCF). Five years into our work, our team has helped start 115 Donor Advised Funds, manage eight Giving Circles, host eight nonprofit endowments, and incubate 15 fiscal sponsorships.
As a student in the Graduate Certificate program in Philanthropic Studies at Indiana University, I have access to some of the best practitioners in the industry. Additionally, my classmates also lead nonprofit organizations and fundraising departments all across the country. The Zakat Foundation started a fellowship program for Muslim nonprofit leaders and in our Islam & Philanthropy course, we deep dove into topics around Giving While Muslim.
Reflecting on Muslim Philanthropy
In her research about the impacts of 9/11 and Muslim philanthropy, AMCF's Research and Strategies Fellow and recently awarded 2021-2022 Lake dissertation fellow, Esra Tunc, found that many relief-based agencies faced particular challenges after 9/11 and were subject to surveillance due to the fear of terrorism. Three of the largest Muslim charities of the time — the Holy Land Foundation for Relief and Development, the Benevolence International Foundation, and the Global Relief Foundation — were shut down shortly after 9/11. Many of these and other charities encountered decreases in the donations they received because of fear that Muslim-focused or Muslim-led charities might support religious extremism, especially those operating in a transnational context. Donors became weary of organizations working in international relief and giving to any organizations with the word Islam or Muslim in the title. At this point, resources from the community shifted to social service and civil rights advocacy organizations. Additionally, the U.S. government began providing Countering Violence Extremism grants which were focused on surveillance of marginalized and minority communities. Aimed at promoting justice and protecting democracy, these grants were in effect hurting the communities they were claiming to serve. In some cases, philanthropy from other sources supported organizations that targeted Muslim communities or nonprofit leaders. This is the reality for Muslim donors and nonprofit leaders.
AMCF Reimagines Philanthropy and Looks Ahead
To meet immediate needs, AMCF's COVID-19 Response Fund for Nonprofits raised and distributed $360,000 in 2020 to more than 60 organizations. The racial justice reckoning in the U.S. has also laid bare the broken systems within our society. At AMCF, our charitable giving supports local communities across the country impacting racial equity, social justice, and basic needs of everyday Americans. We believe if the philanthropic community as a whole doesn't take a stand now, minority and marginalized communities will continue to suffer. This is why AMCF joined Amalgamated Foundation's effort, "Hate is Not Charitable" campaign and urges hosts of Donor Advised Funds to be proactive in their vetting of charities they give to and commit to not supporting hate groups that have targeted the LGBTQIA+, Muslim, and immigrant communities.
In continuing our efforts to help nonprofit organizations and raise up donors, AMCF is committed to hosting and promoting Giving Circles. With the help of Philanthropy Together's Launchpad for Hosts, AMCF launched the American Muslim Women's Giving Circle in Women's History Month earlier this year. More than $12,000 has been pooled together into a communal fund. Another Giving Circle in its planning stages will focus on interfaith initiatives.
As an example, the Bay Area Giving Collective (BACG) will distribute $105,000 in Ramadan to Mu'eed, an Oakland-based nonprofit providing meals to families in need, and Tayba Foundation, a Muslim-led, national organization educating incarcerated individuals and their families and helping them with reentry initiatives. 
AMCF has also helped to distribute over $3.5 million to over 275 nonprofits since 2017 and is working to ensure greater transparency in the sector by participating in giving surveys and share our anonymized data on the grants we have made from our Donor Advised Funds. This will ensure more representation is shared with faith and philanthropy initiatives and provide a lens at Muslim philanthropy. In our podcast, #MuslimPhilanthropy launched in 2020, we've brought on mainstream philanthropic funders, everyday donors, and nonprofit leaders to share their insights on charitable giving, capacity building, and organizational development. 
According to The Institute for Social Policy and Understanding and Lake Institute's American Muslim Philanthropy report in 2019, Muslims are just as likely to give to causes outside of the Muslim community than they are to causes within in. So this Ramadan, I invite you to learn more about Muslim-led philanthropy in your community, and check out the incredible organizations that Muslims are supporting in their zakat and sadaqa this year. You're sure to discover someone and something new!
ABOUT American Muslim Community Foundation
Founded in 2016, American Muslim Community Foundation is a grassroots, national nonprofit organization in the United States. Our focus is on creating Donor Advised Funds, Giving Circles, distributing grants, partnering on fiscal sponsorships, & building endowments for the American Muslim community. https://amuslimcf.org
ABOUT Muhi Khwaja
Muhi co-founded American Muslim Community Foundation in 2016 and has been a nonprofit fundraiser and leader since 2009. Outside of philanthropy, Muhi enjoys riding his motorcycle, hiking, and spending time with his wife Natalie, cat Ninja, Dog Atlas, and chickens Thelma & Louise.
Expanded Perspective
by Anne Brock
Muhi Khwaja writes in his opening paragraph that, "As a Muslim, I am invited by my faith to give of what I love." I imagine most people of faith could say the same thing – our faith invites us to give financially from a place of love. I know that's true for me.
For most of my adult life, I've donated financially based on what was expected of me, or at least similarly to those around me. I made a pledge to my congregation every year and then let them handle how that money was spent. Only in the last few years have I put more thought into my financial gifts, and in doing so, I find myself more connected to organizations and the people they serve.
Yes, my faith invites me to give, but I'm finding that giving to be more meaningful when I take time to reflect on why and where I give rather than just following the expectations of a particular community. For example, I gave to an organization I worked with for many years, one that is in the US but outside my local community. Although I believe in their work, I ultimately decided I wanted to keep those funds in my community to support kids where I live. It wasn't that I didn't want to support that organization's work anymore; however, my faith opened my eyes to the children in this city and I knew that's where I wanted my financial gifts to go.
Sometimes giving is purely a financial strategy, but I find when I include my faith in the decision, my heart and brain often come up with new ways of giving that are in better alignment than any strategic plan.
How does your faith impact your giving? Is it more about generosity than wealth?
Subscribe
---
Insights, a bi-weekly e-newsletter, is a resource for the religious community and fundraisers of faith-based organizations that provides:
Reflections on important developments in the field of faith and giving
Recommended books, studies and articles
Upcoming Lake Institute events