Resource Library

Introducing the Faithful Generosity Story Shelf
Resource Library
Introducing the Faithful Generosity Story Shelf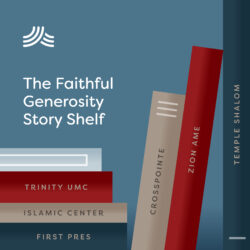 by Kelly Dunlap and Elizabeth Lynn
It's a fascinating – and even a spiritual – exercise to learn the origins of your place of worship. At a particular point in time, a group of people cast a vision and generated the will and the means to create a new worshiping community, whether that was 10 years ago, or fifty, or one hundred and fifty. Knowing this story can illuminate the original vision that guided the construction of a worship space – and maybe even the shape of the community that gathers within it today.
As Winston Churchill observed, "We shape our buildings; thereafter they shape us."
While Churchill was reflecting on the design of a legislative chamber, surely this observation has implications for congregations, too.
If we ask how our churches, mosques, synagogues, and other worship spaces have shaped us – what might we learn? How have the steps outside, the kitchen in the basement, or even the orientation of the windows directed our congregations' faith practices and engagement with the wider community? Do our properties invite others in, propel us out, or just keep us distracted?
We might ask the same questions of other structures that hold our communal life together, such as the line items on our congregational budgets that are carried over from year to year. Do they respond to the needs and values of the congregation like the first day they were written?
This season of rapid change, both within and beyond religious communities, invites us to consider the building materials of congregational life that we have inherited – and to ask whether our use of those materials still offers a faithful response today.
A New Season of Creativity
Many congregations and other religious organizations have taken up this invitation in recent years. They have looked closely at the land, buildings, funds and other resources in their care, and chosen to respond with creative generosity.
When East End Temple opened space in their building to Cordoba House, an organization launching a pluralistic approach to teaching Muslim children, the lives of the two communities began to intertwine in intentional and unintentional ways as they learned together, grieved together, and served together.
A congregation-wide, monthlong fast led Alfred Street Baptist Church to raise $150,000, which they decided to give away to students at Historically Black Colleges and Universities who needed financial assistance in order to graduate. The entire congregation was moved to tears when they learned about the impact their giving would have on the lives of these students.
Struggling with the financial realities of a small and aging congregation, Altama Presbyterian Church put their property up for sale. Instead of selling to a developer who might have replaced their sanctuary with a strip mall, the church decided to lower their asking price, so a nonprofit whose mission aligned with their own could purchase the property. Now, the nonprofit is building permanent supportive housing for unhoused people on the former church property.
These are just a few of the many stories of congregational creativity and generosity across the American landscape today, as congregations ask, "What now?"
Responding to this new season of creativity, Lake Institute on Faith & Giving has started collecting stories and stocking them on a Faithful Generosity Story Shelf, in our new Resource Library.
Within these stories, you can learn from the paths other congregations walked – the questions and situations that prompted their journey, the challenges they faced, the lessons they learned, and the ways they are responding with imagination and generosity.
However, these are not how-to manuals. Each congregation must examine the resources and opportunities within its reach, the unique needs in its own community, and the necessary steps to enact innovative generosity in a way that is faithful in its own context. Rather than see these stories as blueprints, let them spark your imagination.
Most of all, the stories on our digital shelf have been chosen to start a conversation. To this end, each story has been crafted as an accessible vignette that is short enough to be read and discussed during a committee meeting or other group gathering. We have also provided discussion questions that can be used to guide group conversation.
Remarkable Opportunities for Mission and Ministry
As a reader of Lake Institute's newsletter, you may have arrived at the end of this article wondering: What on earth does the disposition of buildings, lands and other congregational assets have to do with 'faith and giving?'
We believe that congregational decisions about the future use of buildings and other resources are among the most important – and potentially impactful – at the intersection of faith and giving today.
Religious communities of all kinds across the country are re-examining their ministry and mission. Long foreseen declines in church membership, the unpredictable COVID-19 pandemic's ongoing impact, new momentum to reckon with racial injustice, and other shifts in our social and economic realities have made this moment ripe and urgent for new vision and innovation. At the same time, our buildings, lands, and funds may no longer serve the mission and ministry to which we now feel called, and may even pre-occupy leaders, preventing attention to new opportunities at hand.
How can religious and lay leaders, together, see these resources in a new light, as remarkable opportunities for mission and ministry, instead of worrisome line items that have been handed down year after year in that organizational budget?
We hope the Faithful Generosity Story Shelf can help! And that you in turn will help us, by recommending new stories to be added and shared, sparking imagination and new forms of faithful generosity in the years ahead.
---
Questions for Reflection
How has your worship building shaped your congregation? How has it shaped your congregation's budget?
What questions are you asking, as a congregation or religious organization, about the properties and other resources in your care?
In the three brief stories of creative giving above, what stood out to you?
Expanded Perspective
Struggling with what to do with your church building? Here's how to find help.
Congregations across the country are trying to figure out what to do with buildings that no longer align with mission and ministry. In a Faith & Leadership article published on March 7, 2023, Elizabeth Lynn surveys the landscape of resources available to leaders grappling with this issue. As Lynn emphasizes, if you are one of these leaders, you are not alone. Increasingly, there is a shared sense of the challenge and a growing network of groups, ready to respond:
Each year, thousands of churches in the United States close their doors and others begin to move toward that decision. While post-pandemic statistics on church closings are not yet available, 2019 estimates placed church closings between 1% and 2% annually, or between 75 and 150 congregations every week.
Even thriving congregations may struggle to maintain buildings that no longer align well with mission and ministry. Often silently, sometimes aloud, pastors and lay leaders and religious support organizations are asking … What should become of these buildings — what shall we turn them into?
Yet congregations need not feel alone in this struggle, as hard as the struggle may sometimes be. In fact, the problem of church buildings is generating significant conversation and creativity across the American landscape.
Read more at Faith and Leadership here.
Symposium on Philanthropy and the Black Church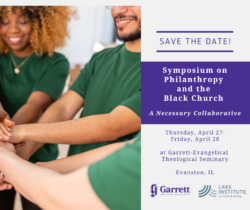 A Necessary Collaborative
April 27-28, 2023 | In-person at Garrett-Evangelical Theological Seminary | Evanston, IL
Join us for this special two-day event that will bring together scholars and practitioners from philanthropy and the Black church. This conversation will allow us to learn from past chapters of engagement across the faith-philanthropy divide and to dig into the challenges and opportunities for our own time.
Speakers include Dr. Robert Franklin of Emory University, Rev. Debra Haggins of Hampton Ministers Conference, author and philanthropic leader Valaida Fullwood, Jeanné Lewis of Faith in Public Life, Devin Murphy of Bridgespan Group, and others.
Event sponsored by Lake Institute on Faith & Giving and Garrett-Evangelical Theological Seminary Center for the Church and the Black Experience.
Milton J Murray Lecture featuring Edgar Sandoval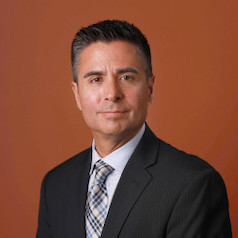 Believing in a World of Impact Through Vision, Innovation, and Transformative Faith
Join the Lilly Family School of Philanthropy for the Inaugural Milton J Murray Lecture featuring Edgar Sandoval, CEO and President of World Vision at the Indiana Historical Society on April 27th at 6pm EST. The event will also be live streamed. Parking is free at the event venue.
The lecture is named in memory of Milton Murray, a pioneer in the world of public relations and fundraising for the nonprofit sector. He was also deeply committed to his faith and international engagement, values instilled by his missionary parents. Milton also led the effort to create the first US Postal Stamp to celebrate philanthropy.
Subscribe
---
Insights, a bi-weekly e-newsletter, is a resource for the religious community and fundraisers of faith-based organizations that provides:
Reflections on important developments in the field of faith and giving
Recommended books, studies and articles
Upcoming Lake Institute events