Resource Library

Giving Magazine: Faithful Generosity (Vol 22, No 2)
Resource Library
Giving Magazine: Faithful Generosity (Vol 22, No 2)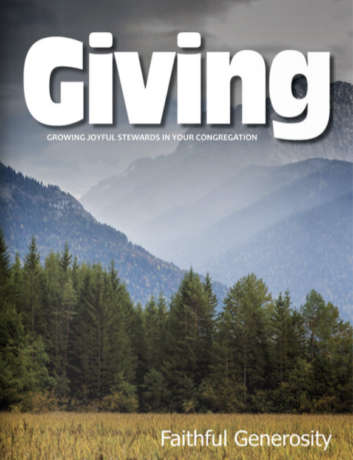 This issue of Giving Magazine focuses on Faithful Generosity. Within these pages you will find stories and illustrations of long-time engagement and first steps.
The articles included in this issue are:
Faithful Generosity Today
Faithful Generosity: Doing the Right Thing
Move Forward, Remain Faithful
9 Ideas for Practicing Faithful Generosity in Your Congregation
Generosity in Community
7 Texts for Preaching Faithful Generosity
Teaching Faithful Generosity
Faith Generosity for Teens
Homeless Care Bags: A Recipe for Empathy and Kindness
Teaching and Engaging in Stewardship with Children
God Gave the Growth
Faithful Stewardship in a Time of Uncertainty
---
Giving Magazine was a premier stewardship resource published by the Ecumenical Stewardship Center (ESC) from 1999 until 2020. The magazine served Christian faith communities throughout North America, providing thoughtful, practical, and inspirational content on faith and giving from thought leaders and practitioners alike. Giving was published annually from 1999 until 2018 (volumes 1-20), and then quarterly in 2019 and 2020 (volumes 21-28) in digital form only. In 2021 ESC closed its doors and committed its archives to the care of Lake Institute on Faith & Giving. For further information on ESC or its archives, please contact us at LakeInstitute@iupui.edu.
Subscribe
---
Insights, a bi-weekly e-newsletter, is a resource for the religious community and fundraisers of faith-based organizations that provides:
Reflections on important developments in the field of faith and giving
Recommended books, studies and articles
Upcoming Lake Institute events